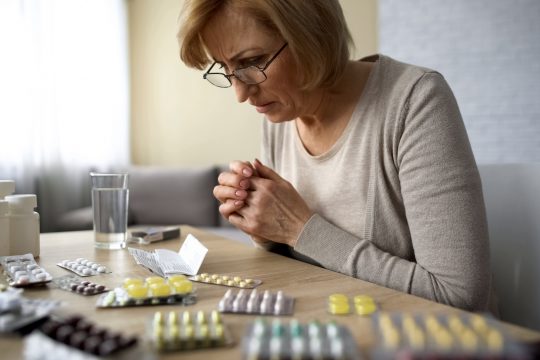 Our Foundation articles often deal with serious and perplexing problems facing segments of our population, and addiction is certainly one of those that affects many people. You may recall seeing articles covering various aspects of addiction on this blog page, like "Essential Information for Dealing with Addiction" published in June 2020, "Telehealth & Online Mental Health Resources During COVID-19" published in August, and "OPIOID Crisis and the Elderly" published in April 2020. These articles helped draw attention to the gravity of addiction and the impact the illness has on overall health and financial security.
We're taking this discussion a step further with this post, focusing on the financial security issue and offering information on how to deal with the economic impact of dealing with addiction and rehabilitation. This article, provided by the folks at LendEDU, addresses the financial instability problems resulting from addiction, and links to a guide outlining some of the resources designed to provide financial assistance for those recovering from addiction.
But first, take a look at this summary from LendEDU's Andy Kearns and, for more detail, check out the guide linked to it at the end. Here's the summary article:
For people living with addiction, as well as those who care for them, all aspects of life can be affected. Addiction not only creates emotional and physical wounds but can cause other hardships as well.
One significant hurdle faced by those recovering from addiction is financial instability. Substance abuse and drug addiction are expensive on their own, but living with addiction or going through recovery adds further financial challenges.
From rehabilitative therapy to prescription medication and more, the costs of treatment add up quickly – according to U.S News and World Report, the "…annual economic impact from the misuse of prescription drugs, illicit drugs, or alcohol is $442 billion."
Fortunately, financial aid for drug rehab comes in a variety of forms, from health insurance coverage to state and federal funding. This guide will outline some of the resources designed to provide financial assistance for those recovering from addiction.
Financial aid for drug rehab
On average, drug rehab costs range from a few to several hundred dollars for a 30-day detox, and between $5,000 and $80,000 for residential recovery treatment. Many individuals in or contemplating recovery may see this as a deterrent to getting the help they need. However, several resources exist that offer financial assistance for drug rehab and associated programs.
Health insurance and the ACA
With the passage of the Affordable Care Act, pre-existing health conditions were no longer an exclusionary tactic for insurance providers. This drastically changed how addiction recovery was viewed under many health insurance plans.
Treatment for addiction is generally considered a covered medical condition. Additionally, The Mental Health Parity and Addiction Equity Act mandates that large group health insurance plans cannot impose less favorable limitations on mental health or substance use disorder treatment benefits than on medical or surgical benefits. The ACA amended this federal law to include individual health insurance coverage, not just large group plans.
Any ACA-compliant health insurance policy may pay between 60% and 90% of the cost of rehabilitation. If you have been denied coverage or experienced benefit limits that are not in compliance with these laws, an appeals process may be necessary.
To appeal a denial of benefits under an ACA health insurance plan, request a fair and full review of the denial with the insurance provider directly or follow your state's external review process. More information about the appeals process can be found here.
To understand what rehabilitation costs are covered with your specific insurance plan, get in contact with your health insurance provider or check policy limits online.
Government grants for those recovering from addiction
In addition to health insurance coverage through ACA programs, grants may also be available from state and federal governments. Government grants for addiction recovery vary depending on financial circumstances and location, but the resources below are worth evaluating to determine the level of assistance available.
Substance Abuse and Mental Health Services Administration (SAMHSA)
One federal grant for those recovering from addiction is the Substance Abuse and Mental Health Service Administration (SAMHSA) program. Through SAMHSA, block grants are provided to state addiction treatment providers to benefit those in need. Typically, receiving a SAMHSA grant requires meeting specific income requirements or participating in a qualified treatment program through the courts.
To see eligibility information and complete the application process, visit the SAMHSA website.
View the full article here: Financial Assistance for Those Recovering from Addiction
---
Resources
Within Health – Bulimia and Alcohol Addiction
---
Notice: The links provided above connect readers to the full content of the posted articles. The URLs (internet addresses) for these links are valid on the posted date; socialsecurityreport.org cannot guarantee the duration of the links' validity. Also, the opinions expressed in these postings are the viewpoints of the original source and are not explicitly endorsed by the AMAC Foundation, Inc. Providing linkage to external websites does not constitute endorsement of products or services advertised thereon.