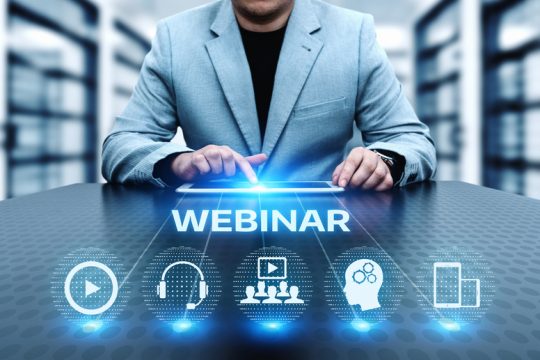 Well, it looks like the COVID-19 pandemic and its "social distancing" edicts will be with us for some time. Whether we're still in the "first wave" or experiencing a second wave–referred to as a "resurgence"–is to some sources a matter of semantics, but the reported infection and mortality numbers are still rising. We're well into summer, and it doesn't appear the restrictions are going to be lifted anytime soon.
One of the steps we took early with the AMAC Foundation's regular workshop/seminar series, of course, was to suspend our live events in adherence to the "stay at home" mandates. For the two years prior to that suspension, we offered over 30 of these events, serving a total audience of nearly a thousand constituents. As most of you can attest, this abrupt curtailment of public contact was disconcerting, but we clearly understood the gravity of the situation.
We feel it's time to get back into business, and to restart our ongoing mission of supporting and educating America's seniors. So, in June, we took a tentative step in this direction with the offering of a virtual webinar titled "Understanding Early Dementia." We elected to use "Zoom" as our delivery mechanism, primarily as a result of its blossoming popularity. This first venture was a success, and you can view the recorded version of the seminar on our website's "Videos" page. I think you'll agree that the talents of our presenter–Peggy Bargmann–were well showcased in this hour-long webinar.
On July 9, we followed that initial venture with a detailed overview of Medicare, delivered by Scott Kellogg, Director of Compliance in AMAC 's Medicare Division. Technical issues at the time precluded us from obtaining a recorded version of this webinar, but we're planning to re-offer this highly informative event in the next few weeks.
So, where do we go next? Since the restrictions on public gatherings appear likely to be with us for some time, we're continuing to schedule webinars for your enjoyment and education. In fact, in recognition of the pandemic's prominence in our everyday lives, we've arranged a series of presentations on topics directly related to the situation we're all in. Check out our "Events" page and you'll learn about what's scheduled so far for August and September, including these topics:
These four sessions have been arranged through our partnership with VITAS Healthcare, and promise to deliver a wealth of highly relevant information applicable to life during the pandemic.
We'll be adding additional topics to our webinar schedule over the next few weeks and months, so keep an eye on our Events page for new announcements. We are hopeful that we can resume our face-to-face seminars in the not-too-distant future, especially our highly acclaimed "Sudden Death: Are You Prepared" notebook series.
We sincerely miss interacting with the folks in our community!