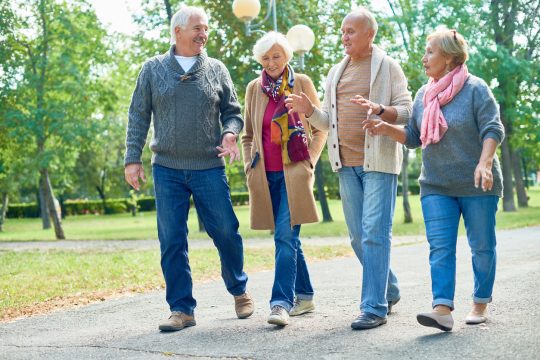 Guest Post by Corey Doane, Outreach Specialist at siegemedia.
Maintaining a healthy lifestyle is an important part of living a long and prosperous life. According to the Standford Center on Longevity, the five lifestyle pillars that help increase longevity and overall quality of life are fitness, stress management, sleep, social relationships, and nutrition.
Daily movement and exercise is a great way to support many of these pillars as it helps relieve stress, improve sleep and maintain social interaction with peers. Here are a few activities you can add to your routine that will help you stay young and healthy into your golden years.
1. Walking
Research has found that walking for even just 10 minutes per day may help decrease the risk of Alzheimer's disease. On top of that, studies have also found that walking for 10 minutes can improve your mood and make you feel happier. Walking is a great aerobic activity that can get you outside to enjoy the fresh air while also supporting the fountain of youth.
If you don't already have a walking routine, start with a 10-minute walk in the morning to kickstart your day or a 10-minute walk in the evening to wind down. Then, increase your walking time as you feel comfortable. Make sure you always wear a comfortable pair of workout shoes so you're supported and minimize the risk of injury.
2. Yoga
Yoga is another great exercise for seniors as it's gentle on the body, but impactful to your physical fitness and mind. This multi-component physical activity can improve physical function and balance, helping to decrease the risk of falls. The best part of yoga is the mind-body connection it can bring—our mental health is just as important as our physical health. Because yoga is so relaxing, it can also help improve sleep and alleviate symptoms of sleep disorders.
There are many free apps and videos on Youtube that can help get you started on your yoga journey. If you're new to yoga, pick a flow that focuses on slow breaths, then, as you feel comfortable, work your way up to a more intense flow.
3. Tai Chi
Tai chi is similar to yoga in that it helps improve balance, coordination and physical function, but instead of holding poses, it focuses on constant dance-like movement. It's often referred to as meditation in motion as it helps relax the mind. Tai chi has become increasingly popular amongst seniors and for good reason. It's gentle on the joints and is a great way to connect with your mind and body.
4. Gardening
Gardening may not be the first activity you think of when it comes to exercise, but garden activities like digging, lifting and carrying are all great for strengthening muscles. Gardening also helps lift your mood and alleviate stress, almost acting as a form of therapy. Start by planting some easy plants or produce in your own garden, or join a community garden where you can socialize and learn from more experienced gardeners.
For more exercises as well as tips to support healthy aging, check out this infographic here…Click on the image to expand it for better viewing. 
Notice: The external links provided above connect readers to the full content of the referenced information. The URLs (internet addresses) for these links are valid on the posted date; AmacFoundation.org cannot guarantee the duration of the links' validity. Also, the opinions expressed in these postings are the viewpoints of the original source and are not explicitly endorsed by AMAC, Inc. or the AMAC Foundation, Inc. Providing linkage to external websites does not constitute endorsement of products or services advertised thereon.