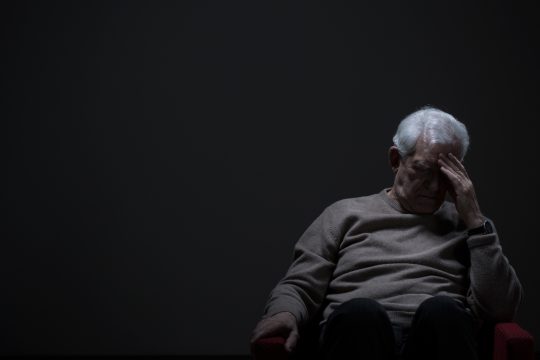 If you're a senior suffering from depression, you have options to help you feel better. Medicare offers mental health benefits, and some plans go beyond the basics. If you don't know how to find coverage or don't understand the different types of services available, keep reading. This article touches on these topics and will give you the information you need to start down the path of recovery, courtesy of the AMAC Foundation.
Depression in seniors
First, it is important to know that you are not alone in your depression. In fact, as North Tampa Behavioral Health points out, there are more than 34 million adults in America living with the effects of mental health decline and more than 10 times that worldwide. Contrary to popular belief, depression doesn't always manifest early and follow you throughout your life. Many people never experience symptoms until well after their 65th birthday. A quarter of the senior population aged 70 and older have reported feelings of loneliness, which can lead to depression. Stress and depression can also make an impact during the holidays. Living far away from family and experiencing increased divorce rates are factors that contribute to senior isolation. Depression is not a sign of old age or a weakness to beat. Depression is an illness that can be treated.
Care
Many seniors forgo mental health care—some out of the fear of being labeled with a stigma, others because they do not realize it is covered by their health insurance. OpenCounseling lists depression screening, family counseling, psychiatric evaluation, and diagnostic testing, among the services covered under Part B. However, if you have a Medicare Advantage plan, you may have greater benefits and more affordable deductibles. Many Medicare Advantage plans offer additional benefits, including coverage for prescriptions and health centers, which can help you manage your depression. You can apply for a Medicare Advantage plan during the open enrollment period beginning on October 15 and ending on December 7, so it's a good idea to research your options ASAP so you don't miss the deadline.
Types of treatment
It's often believed that depression is treated exclusively with medication. This is not true, and there are many aspects of care that don't involve the use of antidepressants. Counseling with a psychiatrist, clinical psychologist, or social worker is often effective and the only way to truly evaluate the severity of the condition. And this is covered by Medicare Part B. Something to note, however, is that Medicare and Medicare Advantage plans have different levels of coverage for each, so knowing what's available to you can help you react if and when you are ready to get help.
These care providers may suggest different types of therapy, including cognitive behavioral therapy (CBT). Within the scope of CBT, a therapist may implement tactics such as activity scheduling, which is the process of making time for rewarding activities. Graded exposure is another common form of CBT and is a popular way to help patients face their fears by gradually increasing their tolerance of objects, people, or situations that cause anxiety.
Antidepressants
Sometimes, counseling and behavioral therapy are not enough. In these cases, antidepressant medication can help you regain control of your emotional state. There are several different types of antidepressants including selective serotonin reuptake inhibitors (SSRIs) and tricyclic antidepressants TCAs). RXList.com explains that SSRIs are by far the most common and work by affecting the way the brain produces and uses serotonin, a neurotransmitter that affects emotion. Depending on what you're prescribed, your medicine may or may not be covered by your Medicare plan. In this case, ask your provider if there are covered alternatives.
In addition to counseling and medication, there are lifestyle factors that contribute to depression and to healing. Eating a healthy diet, getting plenty of exercise, and engaging in positive social interaction are all shown to provide positive mental health benefits. Your Medicare plan may offer perks, such as meal delivery, transportation, or free fitness center memberships that can help you make healthy changes to your daily habits.
You may also be able to battle depression by filling your days with something you enjoy. For example, did you know that many seniors opt to start businesses during retirement? Zenbusiness explains that you'll need a game plan to help you navigate the waters of starting a business, but this venture could be one of the most exciting aspects of your retirement. And who knows? Your new business may be what you need to feel fulfilled.
Depression hurts, but you don't have to suffer. Seek treatment and take comfort knowing that, with the right Medicare plan, you won't likely be stuck with a huge bill no matter what kind of care you seek.
Article specially written for amacfoundation.org by Donna Erickson, fitmemory.org
Notice: The links provided above connect readers to the full content of the referenced information. The URLs (internet addresses) for these links are valid on the posted date; AmacFoundation.org cannot guarantee the duration of the links' validity. Also, the opinions expressed in these postings are the viewpoints of the original source and are not explicitly endorsed by AMAC, Inc. or the AMAC Foundation, Inc. Providing linkage to external websites does not constitute endorsement of products or services advertised thereon.