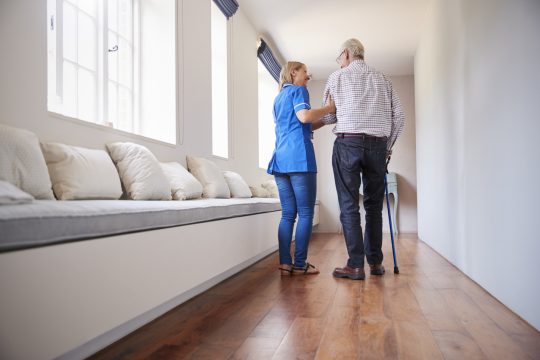 4.5% of elderly US citizens live in nursing homes, which is about 1.5 million people. Our loved ones deserve the best quality of life when it's time for them to move into an assisted living facility. So, how can we ensure that the nursing home we are choosing is genuinely right for our loved ones?
Read on for a comprehensive guide to the top considerations when choosing a nursing home. Transitioning to an assisted living facility is a difficult process, and using these tips, you can ensure your loved one will be able to settle in and live comfortably in their new nursing home.
Deciding It's Time To Make The Move To A Nursing Home
It can be a hard decision to make to move your loved one into a nursing home. However, it can be even harder to take care of your loved one single-handed. Hiring help can ensure your loved one is safe, comfortable, and cared for and will improve your quality of life by reducing your stress and workload.
If you're considering moving your loved one into a nursing home but are unsure, here are some of the signs that moving them would be in your family's best interest:
Falls and physical injuries – if your loved one is hiding bumps, bruises, or burns, this could indicate that they are struggling to live independently.
Increased phone calls – if you find that you are receiving an increasing number of anxious phone calls, particularly at night, this could be a sign that your loved one isn't coping well at home.
Poor personal hygiene – if your loved one is struggling to get into the shower or bath, this could indicate that they would benefit from some assistance with daily tasks.
A messy house – if your loved one who is usually tidy and clean has let their home become cluttered and dirty, this shows that they cannot perform everyday tasks independently.
Medication – if your loved one forgets to take their medication, this can be a huge red flag indicating that they need to be placed in a nursing home.
Incontinence – if your loved one is struggling to hold their bladder or get to the toilet in time, they would benefit from the assistance offered in a nursing home.
If you're stressed or burnt out – if taking care of your elderly loved one is causing you stress, and you feel it is taking a toll on your mental well-being, it could indicate that it's time to make a move.
What Makes A Good Nursing Home? Top Considerations
This list will give you some pointers on the top considerations when choosing a nursing home for your loved one to decide which nursing home is the best in your area.
Appealing Food
Since your loved one will likely be dining at the nursing home every day, it's essential to ensure that the food is appealing. Well-balanced, healthy, and tasty fresh foods and meals should be readily available to your loved ones. You should also ensure that the dining area is sanitary, clean, and well-kempt. It could kill your loved one's appetite if the environment in which food is served is unclean or unappetizing.
You should also ensure that the facility offers special meals for residents with dietary requirements and allergies or offers vegetarian and vegan options. The staff at the nursing home should observe the residents' nutritional intake and notify their relatives should they notice any changes.
WiFi and Activities
The last thing you want is to place your loved one in a nursing home only to have them call you every hour to tell you that they are bored and have nothing to do. If your loved one is internet literate, you should ensure they have wifi access and access to their devices like laptops and smartphones.
You should also observe the activities offered at the nursing home; for instance, they may provide exercise classes, outings, baking, painting, and movie nights. All of these activities will be enjoyable for your loved ones and keep their mind stimulated.
Friendly Staff
Since the staff at the facility will be directly responsible for your loved one's well being, you should ensure the team is friendly. You can understand the staff's competency and treatment of residents by looking at reviews on google. Should you find several poor reviews based on the staff's treatment of residents, it's best to avoid that facility altogether – you do not want to risk your loved one being treated poorly or unfairly.
Security
Nursing homes need to have the latest security technology to ensure that their facility and their patients do not become compromised. Confused patients need to be kept from wandering out of the nursing home and getting lost in public. Also, seeing as though the residents in a nursing home are vulnerable, securing the facility and preventing crime is of utmost importance.
Through a robust visitor management strategy, managers can secure a nursing home and avoid unauthorized access when people attempt to leave or enter the property. They can also use internal door locks to prevent residents from accessing staff areas that contain medications and items that may be dangerous in the hands of a confused resident.
Summary
If you choose the right nursing home, you can provide your relatives with a safe place to live and reduce their daily responsibilities. Your loved one will have more company and will be able to take part in enjoyable activities while having their needs met. Bear these top considerations in mind to make the transition to a nursing home easier for your loved ones and ensure they live in complete comfort.
Article specially written for amacfoundation.org by Holly Klammer.
Notice: The links provided above connect readers to the full content of the referenced information. The URLs (internet addresses) for these links are valid on the posted date; AmacFoundation.org cannot guarantee the duration of the links' validity. Also, the opinions expressed in these postings are the viewpoints of the original source and are not explicitly endorsed by AMAC, Inc. or the AMAC Foundation, Inc. Providing linkage to external websites does not constitute endorsement of products or services advertised thereon.