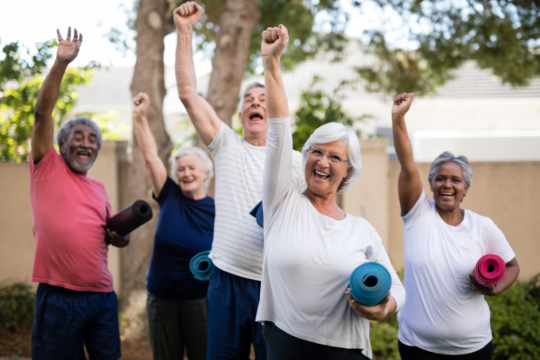 Our "Aging at Home Expo" is rapidly approaching–Wednesday, January 29 as a matter of fact–and we're nailing down the final list of exhibitors and speakers planning to be on-hand to answer your questions and provide guidance on the very important subject of aging in the comforts of your home. As you'll find out at the Expo, there are several planning steps you'll need to be aware of in order to make this concept work for you and your family, and one of the more fundamental of these is the need to plan an exercise regimen at a level that will help preserve your health as you age.
Staying in shape is one of those things that often winds up easier said than done. Trust me…I know! But it's not impossible, and there are resources available to help you stay focused on this critical goal. One of these is a guide from the  National Institute on Aging at NIH titled "Exercise & Physical Activity: Your Everyday Guide." This 124-page document covers pretty much all the bases of getting in–and staying in–shape, and is the product of NIH's objective of improving the health and well-being of older adults.
From determining your fitness goals to laying out an exercise program and monitoring your progress, the Guide can go a long way toward achieving the level of physical fitness that will make it easier to age at home. Of course, a major part of the program is maintaining a healthy diet, and the Guide covers that as well.
Unfortunately, NIH reports that the printed version of the Guide is no longer in stock. But don't despair…it's available for download in PDF format here:  nia-exercise-guide.pdf. And while you're at it, you may want to check out some of the other valuable resources available through the National Institute on Aging at NIH.