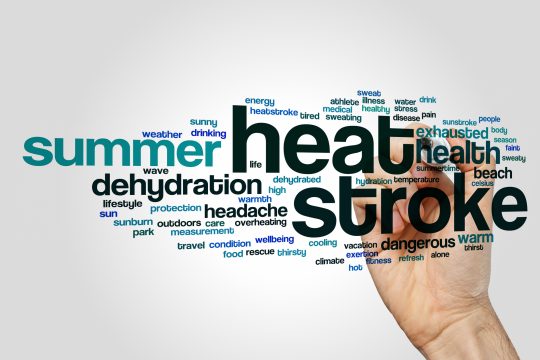 It seems like every news radio broadcast in the past few weeks has highlighted the oppressive heat in many areas of the country, citing record-breaking temperatures and oppressive humidity. It's uncomfortable, to say the least, and this year's heat waves are certainly not limited to the extreme south. But beyond just being uncomfortable, it's important for seniors to keep in mind the increased potential for illness– and death–that can accompany prolonged heat weaves.
The Association of Mature American Citizens (AMAC), in support of its senior constituency, recently issued an informative bulletin that calls attention to the risks of extreme heat, and offers precautionary suggestions to lessen the chances of becoming a victim to the illnesses they can bring. The AMAC bulletin, titled "Seniors Most At Risk for Illness and Death During Heat Waves," can be accessed here. It's worth the read!
And don't forget the pets…they are just as susceptible as humans to illness caused by oppressive heat. An especially disastrous situation, of course, involves pets kept in a car or truck during extreme heat, and as noted in a post on www.onegreenplanet.org, "Thousands of Animals Die in Hot Cars Every Year…" But there are other hazards facing pets in the summer months, and we've included here a few articles on this subject. Check them out when you get a chance:
Keep pets safe in the heat (The Humane Society of the United States)
Thousands of Animals Die in Hot Cars Every Year – Help Be Part of the Solution! (One Green Planet)
Hot Weather Safety Tips –  (American Society for the Prevention of Cruelty to Animals – ASPCA)
Notice: The links provided above connect readers to the full content of the referenced articles. The URL (internet address) for these links are valid on the posted date; AmacFoundation.org cannot guarantee the duration of the links' validity. Also, the opinions expressed in these postings are the viewpoints of the original source and are not explicitly endorsed by AMAC, Inc. or the AMAC Foundation, Inc.