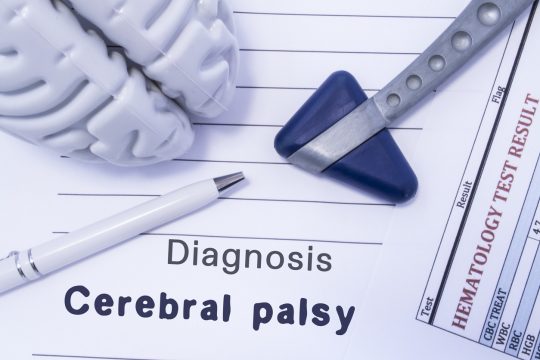 Source: Sophie Nolan, Director of Advocacy for Cerebral Palsy Guide
Our friends at Cerebral Palsy Guide represent a national support organization dedicated to educating individuals and families about cerebral palsy. While raising awareness about this movement disorder, their team is also committed to providing informational support for children with CP and their parents and caregivers.
Their Guide begins with a succinct definition of the disorder, and continues with a thorough account of its known causes and a classification of types of Cerebral Palsy encountered. The physical and neurological symptoms are defined, along with a discussion on the diagnosis of the disorder in infants and children. Risk factors for expectant mothers, followed by coexistent conditions and various treatment considerations. The Guide also addresses financial issues associated with the cost of care, including options available to families dealing with treatment and related expenses.
The Guide's closing comment helps put its intent in perspective for the reader: Cerebral Palsy Guide was founded upon the goal of educating families about cerebral palsy, raising awareness, and providing support for children, parents, and caregivers affected by the condition. Our easy-to-use website offers simple, straightforward information that provides families with medical and legal solutions. We are devoted to helping parents and children access the tools they need to live a life full of happiness
Overall, the Guide is an extensive compendium of helpful information on Cerebral Palsy…one that we're pleased to be able to share with our readers. To introduce the quality of the publication, here's an excerpt of the opening section that defines the scope of the disorder:

What Is Cerebral Palsy?
Cerebral palsy is a group of disorders that vary in severity and affect normal movement in different parts of the body. This condition can cause problems with posture, gait (manner of walking), muscle tone, and coordination of movement.
The word "cerebral" refers to the brain's cerebrum, which is the part of the brain that regulates motor function. "Palsy" describes the paralysis of voluntary movement in certain parts of the body.
Depending on how the condition is managed, motor skills can improve or worsen over time. While symptoms and severity vary from case to case, there are many medical and support options to help people diagnosed with this condition lead fulfilling lives.
To read the full Guide, click here…
Notice: The link provided above connect readers to the full content of the posted article. The URL (internet addresses) for this link is valid on the posted date; AmacFoundation.org cannot guarantee the duration of the links' validity. Also, the opinions expressed in these postings are the viewpoints of the original source and are not explicitly endorsed by AMAC, Inc. or the AMAC Foundation, Inc.