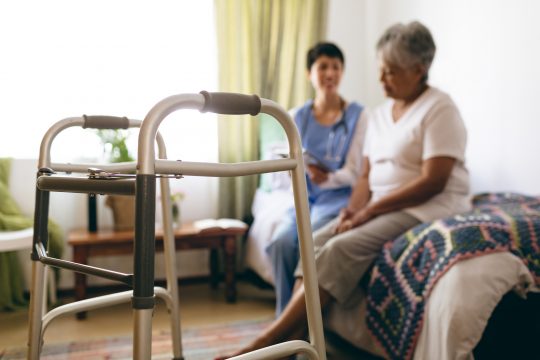 As a senior support organization–after all, our mission is to "Support and Educate America's Seniors"–we are constantly on the lookout for information relevant to our constituency. One of the more relevant topical areas, of course, is the need to plan for living in the latter years of our lives. That's the reason we carefully track concepts like aging-in-place (or, as some refer to it, aging-at-home), and in fact why we conducted a major "Aging at Home" Exposition earlier this year.
But we know that "Aging at Home" might not be possible for, or of interest to, many of our readers. So, we also keep an eye out for helpful material on other forms of senior-oriented living arrangements. Just recently, our contacts at Sixty and Me, an online magazine and global community of over 500,000 women over 60, provided our editorial staff with a comprehensive article on addressing the issue of assisted living, and we felt the material would be of interest to many of our readers.
Sixty and Me's Assisted Living Cost Index focuses on the fundamental question of "how much does assisted living cost in your state?" and state-by-state analysis of the average cost of assisted living facilities, and contrasts these state-level costs with the national average for these types of facilities. Their guide also ranks the five most expensive states and the five least expensive states for assisted living, and concludes with a series of hints and suggestions to consider when choosing a facility, along with thoughts on funding the cost of assisted living.
For many folks considering their future years, the Sixty and Me information might be helpful as a research aid. The information is based on input from  2020 Genworth Financial, Inc., a pioneer in long term care insurance industry with an interest in working to improve our local communities.
Check out the Sixty and Me Assisted Living Cost Index here, and stay tuned to our AMAC Foundation website for future articles on this and other related topics. In fact, browse through our earlier articles and you'll find a wealth of supportive information relevant to our Senior community.
Notice: The link provided above connects readers to the full content of the posted article. The URL (internet address) for this link is valid on the posted date; AMACFoundation.org cannot guarantee the duration of the link's validity. Also, the opinions expressed in these postings are the viewpoints of the original source and are not explicitly endorsed by the AMAC Foundation, Inc.