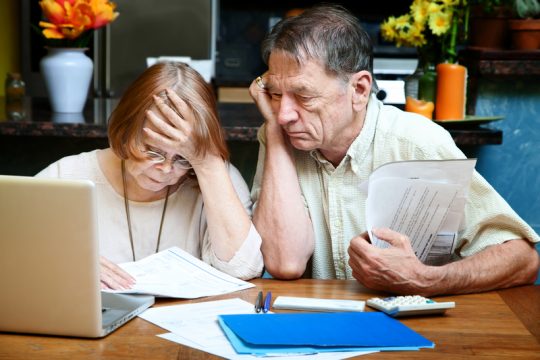 The "retirement dream" for many Americans is changing. With the general cost of living steadily rising and outstripping income sources like Social Security, and with interest rates virtually wiping out that much-anticipated savings income stream, the ability to maintain a comfortable retirement is becoming a problem for many folks. To deal with this, many seniors are exercising the options available to them, like re-joining the workforce or even becoming small-business entrepreneurs. Other options being pursued include downsizing living arrangements, capitalizing on home equity through reverse mortgages, forgoing planned travel, and so on, essentially anything to preserve finances.
But what if the options aren't enough? Unfortunately, many seniors are turning to accumulating debt to handle unexpected crises, or in many cases just to get by. An article not too long ago by Next Avenue's Chris Farrell, posted on forbes.com, carried this chilling statement: "The median total consumer debt of households headed by someone 65 or older in 2016 ($31,300) was 2 ½ times what it was in 2001 and nearly 4 ½ times the level in 1989. Some 60% of 65+ households carried debt in 2016, up markedly from about 42% in 1992. Credit card debt and student loans have increased, too."
So, where does the debt come from? The National Council on Aging (NCOA) has studied the matter, concluding that unexpected medical bills accounts for the largest portion of debt held by seniors, while general credit card debt follows closely behind. In fact, NCOA's research points out that that the percentage of senior households holding credit card debt has steadily grown, up by 41% over the past 15 years. In terms of total debt held by senior households, most recent survey figures show a debt load of over $31,000. Servicing financial obligations at that level requires a substantial income stream and, as mentioned earlier, that income stream is dwindling for many Americans.
NCOA recently published an updated brief on the senior debt dilemma titled "Older Adults and Debt: Trends, Trade-offs, and Tools to Help." The report offers insights into how many seniors are dealing with the problem, citing the "trade-offs" seniors are making (like forgoing home or vehicle repairs, skipping medical appointments, skipping meals, etc.) and discusses the harmful effects these trade-offs are likely to create. But it's not all gloom and doom…the report presents a slate of tools that are available to seniors to help in the management of debt problems. From NCOA's EconomicCheckUp® and BenefitsCheckUp® tools to their Savvy Saving Seniors® educational program, help is available. Further, for those seniors needing to rejoin the workforce, NCOA offers its government-funded Senior Community Service Employment Program (SCSEP) designed to "help low-income, unemployed individuals aged 55+ find work. SCSEP matches eligible older adults with part-time training assignments for non-profit organizations. Participants build skills and self-confidence, while earning a modest income. For most, their SCSEP experience leads to permanent employment."
Check out the NCOA report and the resources they make available. As today's popular saying goes, "We're all in this together" and that applies to many aspects of our lives.
Notice: The links provided above connect readers to the referenced sites. The URLs (internet addresses) for these links are valid on the posted date; AmacFoundation.org cannot guarantee the duration of the links' validity. Also, the opinions expressed in these postings are the viewpoints of the original source and are not explicitly endorsed by AMAC, Inc. or AMAC Foundation, Inc.