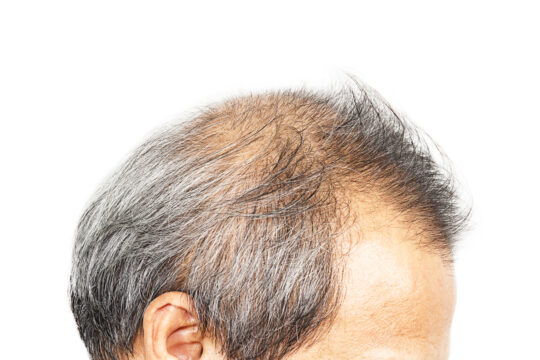 Hair loss is a challenging experience for many people. The hair on our head is an extension of who we are, and it can play a defining role in our look, style, and personality. So when those hair follicle numbers begin to drop, it's not uncommon for it to have a detrimental psychological impact.
It may seem like an exaggeration, but for some, dealing with hair loss is akin to losing someone close to you. While certain people can accept the situation, others are left with a huge psychological scar – and it needs addressing before further damage is done.
Since nearly two-thirds of the male population over age 60 experience some degree of hair loss, and since the female population is also affected to a substantial degree, we believe this topic might be of considerable interest to our readers. Through our contacts at UK-based Harley Street Hair Clinic, we've been made aware of an extensive analysis that provides considerable insight into the background of this life situation. Their document–their Wellbeing Guide–provides important insights into hair loss as a global problem affecting both men and women. The Guide covers:
The most common causes of hair loss
How many people suffer from losing their hair
How to deal with the emotional effects of hair loss
Numerous options for mental health support
Here are some of the figures we delve into:
The average person loses 50-100 hairs from their scalp every day, but that's less than 0.1% of the 100,000 total hairs on someone's head.
Significant hair loss can make us feel alone and isolated, but it's a very common issue. 20% of men experience significant hair loss by the age of 20.
A lot of women have to deal with the emotional struggle of hair loss, though the physical symptoms exhibit slightly differently. For example, 40% of women over 70 years old experience female pattern baldness.
To review the complete guide, click here.
Notice: The links provided above connect readers to the full content of the referenced information. The URLs (internet addresses) for these links are valid on the posted date; AmacFoundation.org cannot guarantee the duration of the links' validity. Also, the opinions expressed in these postings are the viewpoints of the original source and are not explicitly endorsed by AMAC, Inc. or the AMAC Foundation, Inc. Providing linkage to external websites does not constitute endorsement of products or services advertised thereon.