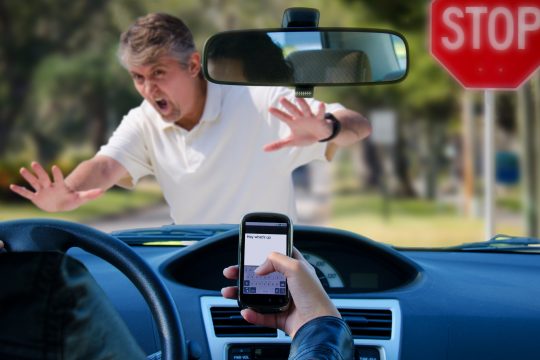 The company's public policy division, the Travelers Institute, kicks off new national symposia series exploring the serious implications of taking your eyes off the road, even for a second
RALEIGH, N.C.–(BUSINESS WIRE)–The Travelers Companies, Inc. (NYSE: TRV) today launched its Every Second Matters national initiative targeting the distracted driving problem. Through a series of forums held across the country by the company's public policy division, the Travelers Institute, the campaign looks to bridge the gap between why many believe distracted driving is dangerous, yet nearly a quarter of Americans admit to doing it.
"The National Safety Council reported more than 40,000 traffic fatalities in 2016," said Joan Woodward, Executive Vice President, Public Policy and President of the Travelers Institute. "Distracted driving is a contributing factor and it's a problem that won't go away without understanding its causes and promoting safe behavior. Whether drivers are texting, eating or talking on the phone – taking their eyes off the road for even one second can cause a potentially life-changing crash."
The Every Second Matters symposia series will convene experienced professionals from the public and private sectors to explore new data on why drivers are losing focus, introduce innovative tools to help reduce distractions, as well as encourage drivers, passengers and pedestrians to speak up when they see distracted driving behaviors.
The educational series will kick off today at North Carolina State University in Raleigh in collaboration with the Independent Insurance Agents of North Carolina (IIANC), NC Vision Zero, the National Safety Council and the Road to Zero Coalition to discuss the role of distraction in today's society and how to influence social change. Mike Causey, Insurance Commissioner of the North Carolina Department of Insurance and State Fire Marshal, will deliver opening remarks.
The Travelers Institute is also releasing a report, Every Second Matters: A conversation starter on reducing distracted driving risk, which explores recent trends in motor vehicle accidents and provides safe driving tips.
"Distracted driving has become an increasingly dangerous activity," said Aubie Knight, Chief Executive Officer, IIANC. "Each day in the United States, more than nine people are killed and 1,000 are injured in crashes involving a distracted driver."
While the risks of distracted driving seem to be well-publicized, many people continue to engage in unsafe behaviors while driving:
The 2017 Travelers Risk Index found that about a quarter (23 percent) of Americans surveyed say they use personal technology at least sometimes while driving – despite nearly 80 percent saying they know the practice is very risky.
The Risk Index also found that 3 in 10 people said they have had a near-miss (almost got into an accident) due to their own distracted driving. Ten percent said they have gotten into an accident from their own distracted driving, while 23 percent say they have due to someone else's distracted driving.
A recent poll commissioned by Travelers and conducted online by Harris Poll of over 1,000 U.S. employees who drive, indicated that 43 percent of employees who drive answer or make work-related communications while driving.
That same poll showed that Generation X (ages 35-44) is just as likely as millennials (ages 18-34) to answer or make work-related communications while driving – over half of both generations (54 percent each) admitted to doing this.
"We see the human costs of distracted driving every day from collisions that could have been avoided if the driver had been paying attention to the road," said Michael Klein, Executive Vice President and President of Personal Insurance at Travelers. "With the Every Second Matters campaign, we hope to educate people about the dangers of distracted driving and provide them with real ways to help them stay focused on the road and keep themselves and others safe."
Travelers is also continuing its efforts to promote safe driving among teens in Connecticut. For the past 10 years, the company has supported the Connecticut DMV's Teen Safe Driving Video Contest, where local teens can win prizes for submitting original, creative videos that convey the importance of safe driving. The goal is to raise awareness among young and inexperienced drivers and strengthen peer-to-peer influence to keep Connecticut's roads safe for everyone.
To learn more about the Travelers Institute's symposia series and to register for an upcoming event, visit www.travelersinstitute.org.
For more information about distracted driving risks and how to stay safe behind the wheel, visit the Travelers Prepare & Prevent website. Other resources for safe driving include the Insurance Institute for Highway Safety, the National Highway Traffic Safety Administration, Virginia Tech Transportation Institute, the National Safety Council and NC Vision Zero.
Travelers Poll Methodology
This survey was conducted online within the United States by Harris Poll on behalf of Travelers from Sept. 12−14, 2017, among 2,083 U.S. adults ages 18 and older, among whom 1,146 are employees who drive. This online survey is not based on a probability sample and therefore no estimate of theoretical sampling error can be calculated. For complete survey methodology, including weighting variables and subgroup sample sizes, please contact Judy Senechal, [email protected].
About Travelers
The Travelers Companies, Inc. (NYSE: TRV) is a leading provider of property casualty insurance for auto, home and business. A component of the Dow Jones Industrial Average, Travelers has approximately 30,000 employees and generated revenues of approximately $28 billion in 2016. For more information, visit www.travelers.com.