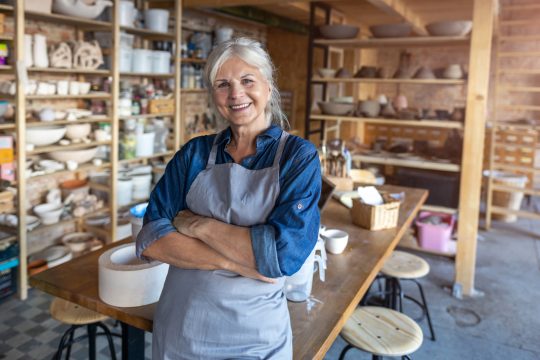 Baby boomers account for 41% of owners of small businesses and franchises, so if you're a senior entrepreneur, you're in good company. While there might be younger entrepreneurs out there, your experience and wisdom can come in handy. Knowing how to market your business effectively can help. The AMAC Foundation shares some great tips to help get your important messages across!
Keep It Simple
Start with a marketing plan you can execute yourself. You don't need an expensive agency to handle your marketing, especially if it doesn't fit your budget. Create a simple marketing plan with the following:
Market research. Understanding the needs, problems, and preferences of consumers helps you shape your offerings and plan marketing.
Target market. Specifying your ideal client helps you select marketing methods and messages that resonate. For example, knowing which social media platforms your audience uses helps you choose where to market.
Unique qualities. Identify what makes you different from competitors to position yourself uniquely in marketing materials.
Marketing strategies. Decide which marketing methods to use, such as posting on social media, printing flyers, advertising in print media, and emphasizing word of mouth.
Network in the Community
Being a well-known part of the community helps market your business. Support local causes and get to know residents to expand your influence. When you meet people, don't automatically push your business. Listen to what they say and think about how your company can help them.
Create a Referral Program
According to Nielsen, 83% of people trust recommendations from someone they know, which is the highest-rated method in the survey. Asking your current customers for referrals is a no-cost way to promote your business. If you want to invest money in a formal referral program, offer customers a gift or discount for referring people.
Design a Branded Website
A professional, branded website that's also highly functional helps attract new customers. Build a responsive website that's easy to read and use on mobile devices. It should have simple navigation, with the most important information about your business easily accessible.
When developing your website, ensure you have a custom logo and style to build brand recognition, make a strong first impression, and separate yourself from competitors. If you're on a tight budget, use Adobe Spark's graphic logo design tool to create a logo yourself. It lets you choose a style, icon, text, fonts, and colors to design a unique logo.
Market on Social Media
Millions of businesses use social media because it's an effective, free way to interact with customers. On Instagram, 90% of users follow at least one business. Posting regularly helps you share information about your business, connect with target customers, and build your brand.
Start with one platform that works well with your business and where your customers spend time. If you're a real estate agent, Instagram lets you easily share images of houses for sale or tips for buying and selling homes, for example.
You can expand to other social media platforms, but it can be difficult to keep up with too many. Tailor your content to different platforms. On Instagram, there's an emphasis on high-quality images and short videos. Twitter focuses on short, powerful text with a limit of 280 characters. Facebook offers more flexibility for text, images, and videos.
You can also pay for social media ads to reach a wider audience. When creating ads, you can narrow the parameters so only people who fit your ideal demographic see the ads.
Offer Freebies or Discounts
Offering customers something for free lets them test your products or services before spending money. Discounts can also encourage customers to buy if they're on the fence. Consider the value of the offer versus what it costs you to offer it, and track the results to ensure the costs are worth it. For example, if you're giving away lots of freebies but not getting any new business from it, you're losing money.
Find Partnering Businesses
Cross-promotion can be an effective marketing strategy. It works best when you partner with businesses in a related field that doesn't directly compete with you. If you run an accounting business, you wouldn't want to partner with another accountant, but you might partner with someone in lending, a financial adviser, or a tax lawyer. These businesses have clients who might benefit from your accounting services.
In exchange for them suggesting your business to their clients, you can recommend them if your accounting clients need one of their services. You might also collaborate on social media posts, open houses, or other events you can share with all your followers and clients.
Embrace the Entrepreneur Community
Form relationships with other local entrepreneurs to share ideas and learn effective marketing strategies. Join your local chamber of commerce for marketing opportunities, networking with other business owners, and educational opportunities. Having a mentor who's been in business longer can also help.
Create an Experience
A shopping experience engages prospective customers and makes your brand memorable so they'll want to talk about it and come back for more. You might have an interactive display where customers can test your products, or you could offer free samples. An open house or similar event can also create a positive experience that helps spread the word about your business.
Market Your Business Well
Marketing your business as a senior entrepreneur doesn't need to be difficult or confusing. Keep your marketing plan simple and clear and keep track of what works to improve your marketing.
Article specially written for amacfoundation.org by Donna Erickson, fitmemory.org
Notice: The links provided above connect readers to the full content of the referenced information. The URLs (internet addresses) for these links are valid on the posted date; AmacFoundation.org cannot guarantee the duration of the links' validity. Also, the opinions expressed in these postings are the viewpoints of the original source and are not explicitly endorsed by AMAC, Inc. or the AMAC Foundation, Inc. Providing linkage to external websites does not constitute endorsement of products or services advertised thereon.