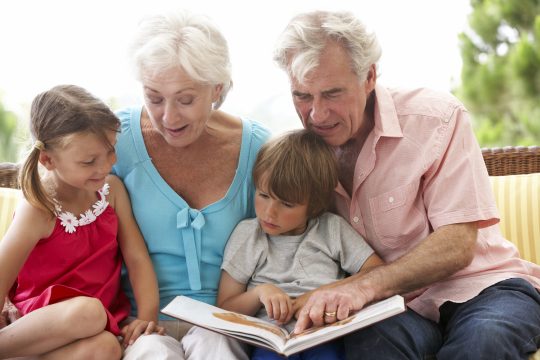 One of the most frequent issues we see in our work with our Foundation's constituency is the caregiver issue, whether it's seniors caring for each other, seniors caring for children or grandchildren, or young families caring for aging parents. This latter area is one where we've seen the emergence of the term "Sandwich Generation," a term defined as " … a generation of people (usually in their 40s to 70s) who care for their aging parents while supporting their own children."(1)
With an estimated one out of eight American's categorized as being part of the Sandwich Generation,"… it's inevitable that the stress of dealing with competing priorities can take a toll on a major part of the population." This quote from a Pew Research Center report several years ago helps put the magnitude of this situation in perspective: "Nearly half (47%) of adults in their 40s and 50s have a parent age 65 or older and are either raising a young child or financially supporting a grown child (age 18 or older). And about one-in-seven middle-aged adults (15%) is providing financial support to both an aging parent and a child." It's no wonder, then, that the need to constantly focus on the needs of others can contribute to chronic stress and lead to debilitating outcomes for sandwich-aged adults.
So, for those dealing with the "sandwich generation" issue, much of life becomes a balancing act. Which dependent's needs are more important or more urgent, the dependent child's or the dependent parent's? Both, of course are important, and both can be demanding, something that can place an overwhelming burden on those in the middle. For example, life is complex for children these days, with social obligations so much more stressful than decades ago, and with the need to fit in to a rapidly evolving world creating the need for careful parental guidance. Looking to the other side of the coin, caring for aging parents these days has a longer horizon than, say, 20 or 30 years ago. Parents' life expectancy now frequently reaches into the 90s and often beyond, resulting in many more years of day-to-day care. In fact, as the length of time to care for aging parents grows, society is seeing more and more instances of families having four or more generations all relying on a central source of care-giving responsibility. Consider a couple in their late-50s to late 60s caring for the needs of parents, children, and grandchildren all at the same time.
The stress accompanying the challenges faced by those in the sandwich generation can be, as noted earlier, overwhelming. But there are steps you can take to manage caregiver stress, the first and most important of which is to recognize the need to take care of yourself. Not doing that can lead to burnout along with mental and physiological problems that can negate the good you're doing. An article by U.S. News and World Report contributor Heidi Godman  suggests key actions you can employ to help avoid problems, including eating a healthier diet, getting more sleep, and exercising more. In her article, Godman also suggests ways to reduce stress through meditation, and presents this series of  specific tips that can help:
Talking to your boss about working from home, at least sometimes.
Making a list of what's most important and letting go of tasks that can wait.
Enlisting the help of other family members, even your older kids. "Research suggests it may be a buffer to stress if sandwich generation adults have their kids helping out, especially if there's a grandparent with dementia," says Roger Olson, a clinical psychologist at St. Luke's Children's Center for Neurobehavioral Medicine in Boise, Idaho.
Joining a support group or talking to a therapist.
Making time to socialize, since connecting with friends is associated with better mood and health.
Being a member of the sandwich generation isn't all about dealing with problems, though. Surveys have shown that nearly a third of sandwich generation caregivers report a positive outlook on their responsibilities, even to the point of being "very happy in their role." (2) In fact, Caring People's Adinah East suggests that "Many adults who provide care for their elderly parents stated that they felt a deeper, more intimate relationship with their parents, especially when their parents expressed appreciation for the help." It's likely that these same folks share the same sense of fulfillment at caring for adult children in need, or grandchildren needing guidance and support.
Notes/References
(1) https://en.wikipedia.org/wiki/Sandwich_generation
(2) https://caringpeopleinc.com/blog/sandwich-generation
Notice: The links provided above connects readers to the full content of the referenced article. The URL (internet address) for these links are valid on the posted date; socialsecurityreport.org cannot guarantee the duration of the links' validity. Also, the opinions expressed in these postings are the viewpoints of the original source and are not explicitly endorsed by AMAC, Inc.; the AMAC Foundation, Inc.; or socialsecurityreport.org.