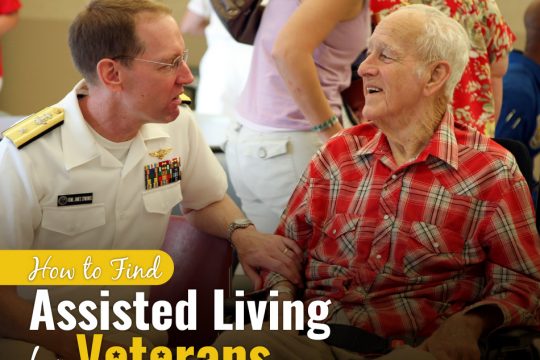 What are the Factors & Things to Consider?
Location
It's a natural assumption that any facility which is close to your home is likely to be the better option; when compared to a faraway facility.
For one thing, you have had your whole life there. Maybe you have children living nearby. It makes more sense if you are an active member of the community and the neighborhood. Being closer makes it easy for you to visit your kids.
Especially if you're battling a degenerative or chronic health condition, it will get easier for your family to check in regularly. Living far away can not only be costly but also disruptive.
In the end, you need to look at the pros and cons related to assisted living for veterans. The next few paragraphs will give you some thoughts on options to consider.
Services & Amenities
It's better if you ask for a brochure or a list of all the amenities and services that will be included in the package. Be specific about each community. Typically, most communities will cover daily meals, linen laundry and housekeeping, maintenance service, and on-call nursing help as part of their package.
Other services such as spa treatments and haircuts are pay-as-you-go. Therefore, you must understand exactly what is included. Also, look into any 'hidden charges.'
And, while conducting your search for a facility, don't forget to address the pet. Having a companion pet is critical to many veterans, both as a source of comfort and for a variety of support assistance. Many assisted living facilities are now pet friendly, so you can have the joy of being around animals even after you transition into assisted living care. There are many benefits of pet friendly assisted living facilities. Check this site out for guidance on this topic.
Cost & Benefits of Options
Perform a cost and benefit analysis of all the facilities you're contemplating. Factor in services that each place provides. Think about how many meals each facility will provide every week.
If you are a veteran or the spouse of an eligible veteran, and if you need assistance with ADLs (activities of daily living) such as cooking, dressing, taking medication, appointment management, etc. then you can always benefit from Attendance Pension and VA aid benefits. These programs are designed to lower the cost for veterans.
Continuity of Care
Many people like the stability that comes with staying in one place. If you are also someone who doesn't prefer relocating with their changing needs, look for a facility that offers continuity of care.
Often these places will have several care options within the same campus. This includes assisted living, independent living, specialized memory care, skilled nursing care, and memory care, etc. The biggest advantage of this arrangement is you won't have to switch places with advancing age as your healthcare needs change.
Community Culture Matters
Check out the senior living facility you plan on moving to. Get a feel for the place. Talk with the residents and the staff. Ask about their typical day and activities. Ask them about community culture and the overall energy of the place.
Also, if the facility is in a downtown district with huge apartment towers, it's likely to be the home of theater fans, recreational shoppers, and fine dining lovers. On the other hand, if it's a suburban community, you can expect lots of golf courses and parks.
Think about which way you would lean and accordingly pick a facility that best offers the kind of cultural needs that you desire.
What are the VA benefits for veteran seniors?
Medicaid
This is a joint program funded by the federal-state government. It aims to offer healthcare services to people from low-income groups. It primarily focuses on pregnant women, children, disabled elderly, and parents. Medicaid may help veterans via copays, medicare premiums, and deductibles. It may even pay for many services which Medicare does not cover.
The eligibility criteria can vary between states. It's better if you talk things over with a state Medicaid office or a VA social worker to see whether or not you're eligible for it.
For more information, you can check out this guide.
Medicare
Although Medicare won't directly cover the majority of expenses of assisted living, it may offset the care expenses for seniors. It's particularly good for the elderly veterans who receive rehab services that assisted living provides.
Below are the criteria to see if you're eligible –
People who are 65+ years of age
Those with certain disabilities under the age of 65
People with end-stage kidney disease regardless of their age
You can even contact a private insurance agency to get a Medigap policy. This will help to offset some expenses in the form of copays, coinsurance, and deductibles.
Remember, mostly there are 2 forms of Medicare – Advantage Plans and the Original Medicare. You can check out the Medicare website to learn in detail what all is included in each of these plans.
GeriPACT
Veterans with cognitive decline issues or physical disabilities can always opt for GeriPACT. You can think of it as a joint collaborative effort between community-based and traditional healthcare services. The goal is to help the veteran live an independent and quality life as much as possible.
You can get access to a combination of primary care and multi-disciplinary services providers. It's a great way to get access to specialized health care.
Bottom Line
Picking the right assisted living facility is going to be a crucial and life-changing decision. It is, therefore, vital that you work with the right mindset. Be sure to put a lot of thought and research into this decision.
Article specially written for amacfoundation.org by Johny Kershaws
Notice: The links provided above connect readers to the full content of the referenced information. The URLs (internet addresses) for these links are valid on the posted date; AmacFoundation.org cannot guarantee the duration of the links' validity. Also, the opinions expressed in these postings are the viewpoints of the original source and are not explicitly endorsed by AMAC, Inc. or the AMAC Foundation, Inc. Providing linkage to external websites does not constitute endorsement of products or services advertised thereon.