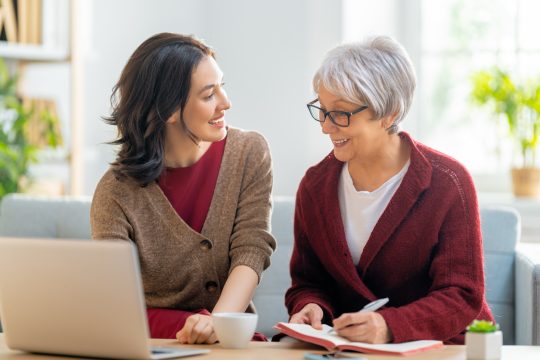 Here's an eye-opening statistic regarding the magnitude of "caregiving" in the United States today: 65.7 million Americans (or 29 percent of the adult U.S. adult population involving 31 percent of all U.S. households) served as family caregivers for an ill or disabled relative. This piece of information was reported by the National Alliance for Caregiving and provides perspective on just how many of us face the likelihood of becoming a caregiver at some point in our lives. And it isn't something faced only by seniors…"a large number of children and adolescents, referred to as caregiving youth, are also serving as caregivers for sick or disabled siblings, parents or aging relatives," says the American Psychological Association.
Couple the statistics mentioned above with the growing level of interest in "aging in place" or "aging at home" (some studies say 90%of seniors age 65 or older prefer to live out their lives in the comfort of their homes), and it becomes important to give thought to what steps one should take to plan for the possibility of finding themselves heading toward a caregiving arrangement, either for themselves or for a family member. This article draws on material made available by our friends at AgingCare.com, and specifically in the following article article written by Ashley Huntsberry-Lett titled:
"Elder Care Plan 101: Set Yourself Up for Success as a Caregiver."
Learn how to discuss long-term care planning, form an elder care team, create a printable daily care plan, and find the support you need to implement a successful caregiving strategy.
Proper care planning is crucial for ensuring both seniors and their family caregivers get the care and support they need. While care plans look different for each family, there are a few integral parts of the planning process that will help make caregiving as easy and successful as possible.
What Is a Care Plan?
A plan of care is a tool that long-term care providers use to record a patient's needs and preferences and delegate caregiving responsibilities to ensure these needs are met with timely, high-quality responses. Family caregivers can benefit from using a similar approach to organize their daily tasks and even create a formal account of all services provided in exchange for payment. (The latter legal document is known as a personal care agreement or personal services contract.)
Printable: Sample Personal Care Agreement
Once a care plan is in place, a family caregiver can efficiently organize their duties and lend their complete focus to one task at a time. A senior's care plan should be reviewed regularly and updated as needed to ensure all new and increasing needs are addressed. This improves their quality of care and decreases the likelihood of any mishaps. Furthermore, care planning allows others to participate in a loved one's care as seamlessly as possible, making it easier for primary caregiver(s) to arrange respite time.
Build Your Care Team
Family members often wonder when it is the right time to become involved in an aging loved one's daily life and care. Adult children typically discuss their parents' health and living situation amongst themselves until an unforeseen event causes them to act. However, leaving things until the last minute is not the best way to broach the subject with elders or prepare yourself for managing someone else's health, finances and daily care. Going into caregiving blindly and without a strategy is strongly discouraged, although it happens frequently.
Support and assistance can come in the form of a care team, which includes family members, close friends, neighbors, and whomever else you trust to pitch in. However, to keep initial care planning discussions from becoming too overwhelming, try to limit participation to immediate family members. It's best to tackle the subject of long-term care as early as possible to get a complete understanding of your loved one's current and future needs and preferences. Be sure to select upbeat individuals with practical skills to join your care team. You can always add more team members if needed later on.
Read: Create Your All-Star Care Team in 5 Steps
Create Your Care Plan Template
Once you have a team in place, you can begin to take steps toward designing a customized plan for your loved one that each team member can follow. You must work together to assess your loved one's situation, identify their needs, set goals of care, match team members with caregiving tasks, and seek out elder care professionals and other resources before you can enact your plan.
Completing each of these phases in their entirety will help you devise a sustainable and comprehensive plan of care for your loved one. Going through this process early on and regularly reevaluating your care plan is the best way to be a successful caregiver.
Read: How to Create a Care Plan for the Elderly
To assist you with the care planning process, we have created a free guide for you and your family to use.
Download: Daily Care Plan Template
---
Browse Our Free Senior Care Guides
---
Sample Care Plans and Inspiration
When it comes to filling gaps in a loved one's plan of care, it can be helpful to see what remedies other caregivers have come up with for similar situations. For example, keeping a senior active and providing social opportunities is a challenge that many family caregivers face. Lucy-Caitlyn, a caregiver with more than five years of experience, found a way of helping her brother-in-law remain engaged that took some of the pressure off herself.
"My brother-in-law's only sources of recreation are books, his cats, and socialization with his caregivers," she explains. "I realized the benefit of allowing my small dog over for 'sleepovers' every few weeks. It gives my BIL something to look forward to and it's great for motivating him to go outside into the garden area at his flat."
Instead of resorting to trial and error to find solutions, read about other caregivers' experiences to see if you can learn from any of their tips and tricks. Visit the Caregiver Forum to ask questions, share experiences, receive care planning advice, and get one-on-one support from fellow caregivers and elder care experts.
Strengthen Your Care Plan With Professional Help
Family members and close friends are familiar with you and your loved one, so they are likely to understand your preferences and routines. However, this doesn't mean that caregiving has to be strictly limited to these people. For smaller families and individuals who do not have a supportive care team, there are resources available to help make your care plan a success. Elder care professionals and long-term care services can be especially useful throughout your caregiving journey. Be sure to explore all available options for respite and guidance below.
In-home care companies assist with care planning and provide professional caregivers who can help your loved one with activities of daily living, housekeeping, errands, companionship, transportation services and much more.
For caregivers who would like to keep their loved ones at home but need additional support in order to go to work during the day or take respite time, adult day services are the perfect fit.
Also known as Aging Life Care Professionals, these advocates are typically licensed and/or certified social workers, nurses or other elder care industry experts. Their job is to conduct extensive research on all resources available to your loved one, coordinate benefits and care, and assist team members with long-term care planning and difficult care decisions.
These legal professionals specialize in issues related to aging like long-term care planning, advance care planning and estate planning. An elder law attorney can assist with wills, trusts, powers of attorney, guardianship and many other legal matters.
Financial Planners
Finding a way to pay for long-term care is a common struggle for many families. A reputable financial planner or advisor can help with retirement planning, investment strategies, tax issues and much more.
Physicians
Your loved one's doctors are responsible for managing the medical aspects of their care plan. It's crucial to develop relationships with each one and assist them in communicating with each other and coordinating your loved one's care. Your care team may include a primary care physician, geriatrician, neurologist, psychologist, and any other specialists your loved one sees.
Social Workers
Typically found in hospitals and long-term care facilities, these care coordinators help patients and their family members understand diagnoses, make care decisions and locate resources to pay for elder care. A social worker's goal is to ensure the general well-being of each client.
Keep in mind that once your care plan is in place, it will continue to develop and evolve as you and your care team gain experience and your loved one's needs change. It is a lot of work to establish a comprehensive care plan, but even a casual organizational strategy is better than nothing at all.
AgingCare.com is an online resource that connects family caregivers, shares informative articles, provides answers and support through an interactive Caregiver Forum, and offers search capabilities for senior living options for elderly loved ones.
Notice: The links provided above connect readers to the full content of the referenced information. The URLs (internet addresses) for these links are valid on the posted date; AmacFoundation.org cannot guarantee the duration of the links' validity. Also, the opinions expressed in these postings are the viewpoints of the original source and are not explicitly endorsed by AMAC, Inc. or the AMAC Foundation, Inc. Providing linkage to external websites does not constitute endorsement of products or services advertised thereon.