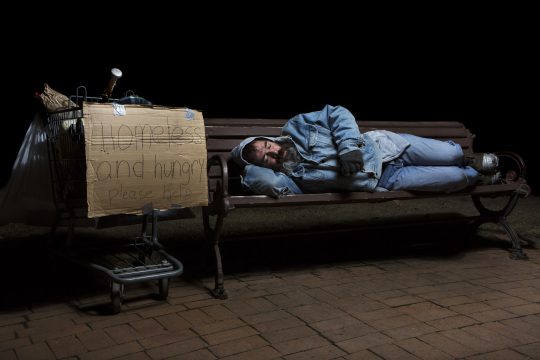 (This article originally appeared in the AMAC, Inc. August 9, 2019 member newsletter)
Eleven percent of the homeless population was over 50 years old in
1990; today 50% of the homeless population is 50 and older, says AMAC
WASHINGTON, DC, Aug 9 — It's August, a time when it can be pleasant to spend time out of doors. But, says Dan Weber, president of the Association of Mature American Citizens [AMAC], "it won't be long before temperatures start to fall and, while most of us have homes for shelter from the elements, tens of thousands Americans live without a roof over their heads. They are the homeless."According to the U.S. Census Bureau, some 12.3% or more of the U.S. population — nearly 40 million men, women and children — live in poverty . "Too many of them do not have the means to find shelter and, therefore, are forced to live hand-to-mouth and find themselves homeless, which is bad enough for the younger members of that population. But, consider how hard it is for the elderly and how grim it is for seniors dealing with health issues."The Department of Housing and Urban Development says that 553,000 Americans were homeless last year, says Weber. He adds that "half of them were over 50 years of age and studies show that the 50-plus segment of the homeless population is likely to triple over the next ten years.  In 1990 , only 11% of the homeless population was 50 or older."
According to the National Coalition for the Homeless, "Increased homelessness among elderly persons is largely the result of poverty and the declining availability of affordable housing among certain segments of the aging."
Former HUD Secretary Mel Martinez says that providing affordable housing is key to the task of stemming the tide of homelessness among the elderly.
Margot Kushel, MD, professor of medicine at UC-San Francisco, is an expert on the elderly who become homeless and she agrees with Martinez. According to Kushel, "A lot of these people have been healthy their whole lives. But it doesn't take long for their health to plummet once they're homeless. Once someone is housed, depression often lifts, stress fades away, infections heal. It's instant."
Dr. Kushel heads up the University's Center for Vulnerable Populations and was recently tapped to direct a new initiative funded by a $30 million gift from philanthropists Marc and Lynne Benioff. The new Benioff Homelessness and Housing Initiative is devoted to the task of finding practical, "real world" solutions aimed at ending homelessness, particularly homelessness among older victims.
Says Weber, "everyone has his own set of priorities, but one thing we all have in common is that we are all growing older. It's one of the hardest things we will all do in this life and so we should have compassion for those who need our help."
If you are able, there are things you can do as individuals to help alleviate the problem, even if it's only donating unused clothing to a local homeless shelter, he adds. Meanwhile, do some research and find out just how dire is the fate of the homeless.
"You'll be surprised the impact you can have by becoming a part of the solution and how good you'll feel."
###
The 2 million member
Association of Mature American Citizens [AMAC]
[
https://www.amac.us
] is a vibrant, vital senior advocacy organization that takes its marching orders from its members. We act and speak on their behalf, protecting their interests and offering a practical insight on how to best solve the problems they face today. Live long and make a difference by joining us today at
https://amac.us/join-amac
.