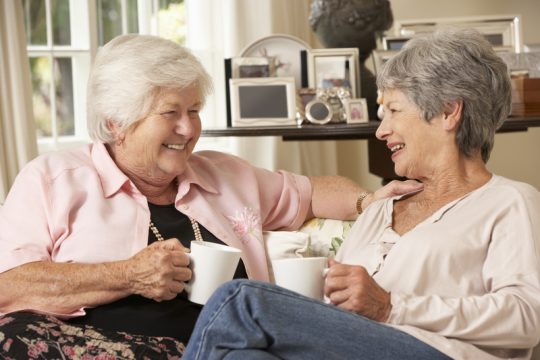 When I think about "aging in place," I think of the TV show the Golden Girls, the NBC sitcom that aired on NBC from 1985 to 1992. You may recall that the setting featured four women, two of whom were related, living together and sharing life and the trials and tribulations of growing old in a youth dominated culture. For some of my friends (we are in our late 50s-early 60s), these memories included stories of how our parents were raised with their grandparent(s) in the same house or at least in the same apartment building.
One of my friends tells the story of her mother and widowed grandmother living in a tenement in New York City, with two other apartments in the same building occupied by their widowed aunts and their children. All the cousins played together, went to school together, and watched over their grandmother until she passed. After that the families went to separate houses and separate ways, gathering only for weddings, funerals, and the occasional family reunion.
That story reflects a common way of life decades ago, but today, we have more choices. Yes, there is the alternative of retirement communities, but they can become very expensive and often present myriad rules, like what color you can paint your house, what kind of landscaping you can have, the ages of occupants in your home, and so on.
Then there are assisted living facilities, but that too can be prohibitively expensive. According to a National Center for Assisted Living report, the median cost for assisted living in the United States is about $4,000 per month or $48,000 annually. As reported by SeniorLiving.org, "Assisted living communities and independent living communities generally have a monthly cost that could range from $2,000 to $7,000 and may make certain hospitality and care services available for an additional monthly fee."
These choices may work for some, but for many they can simply be unobtainable due to the substantial cost.
Here's Another Option to Consider
Then there is homesharing. Homesharing is a simple idea that Maggie Kuhn, the founder of Gray Panters, had in 1980 when she founded the National Shared Housing Resource Center (NSHRC). She passionately believed there must be more opportunities for intergenerational living and that seniors shouldn't be isolated and alone or warehoused and forgotten. As explained in their website, NHSRC " … is a network of independent non-profit homesharing programs across the United States." Their goals " … are to raise awareness of the benefits of homesharing, encourage best practices and cross learning among programs, and to foster the development of new homesharing programs."
So how does Homesharing Work?
Homesharing enables two or more unrelated people to share a domicile (e.g., an apartment, house, condo, or mobile home) for their mutual benefit. For those offering the housing, there are three options: first is the traditional rental option, where they will set a price that's within average market value; second, there is a service exchange option where those seeking housing will be eligible for free rent in exchange for providing a certain number of hours to help the older adult around the house; and the third option is a mixed arrangement option, where those seeking housing pay some rent, but that rent is reduced because they're also providing some in-home services in support of the owner.
Sierra Schmidt, Executive Director of Home & Heart, a home homesharing nonprofit in Chico, CA says "Home & Heart follows a full scope model that provides face to face matches of older adults that need some help aging in place with those in the community seeking housing." In an article posted by KRCR News, Schmidt reports that there is a required screening by both parties which includes background checks, verification of references, and an in-depth intake interview, before the parties can be matched or included in the Home & Heart database.
Month-to-month leasing arrangements at the outset are the norm, Schmidt notes, so if incompatibilities become evident, the relationship can be quickly modified.
What are the benefits of homesharing?
Homesharing is a senior housing option that produces benefits for both sides of the arrangement. For example, for the homeowner, the rental income can ease financial strain for those striving to make ends meet. And since the income is qualified as rental income, there may be tax advantages via the write-off of costs of home ownership. Likewise, for the renter, there is the obvious benefit of avoiding the high cost of an assisted living residence (at least for a while).
Another potentially significant benefit for the homeowner is the availability of on-site assistance for everyday tasks, like cleaning, errands, etc. as well as someone to lend a hand in special situations, like accepting package deliveries or having a house sitter on site when vacationing, visiting friends or relatives, etc. There are innumerable ways just having someone around can be helpful.
But above the financial benefits, homesharing can be a significant benefit in terms of dispelling the loneliness of living alone. Many studies have shown that living in in seclusion, especially for seniors, can lead to serious health issues, both mentally and physically. Having a shared living arrangement can provide a balance to one's day-to-life and can contribute to a state of depression. Just having someone to talk to, share interests, and simply "be around" can help promote a positive environment for all concerned. And that certainly includes family members living far away, since it provides some degree of assurance that their loved one is experiencing the companionship necessary to maintaining a healthy life.
To see if your community has a homesharing program, click on the link to the National Shared Housing Organization; https://nationalsharedhousing.org/program-directory/