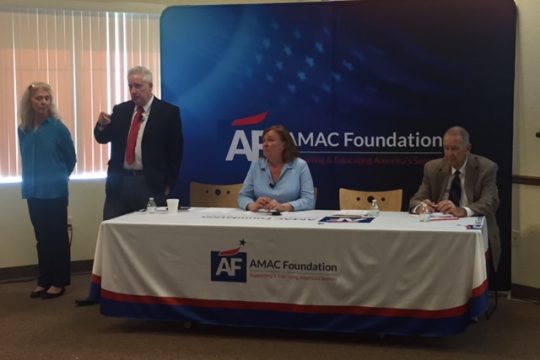 On Wednesday, February 8, the Foundation's Social Security Advisory Service ("Service") held a two-hour forum on issues related to this primary senior benefit program. The program's first hour featured an overview of AMAC and the AMAC Foundation, along with a definition of the Service and an explanation of how the Service works, along with an introduction of the four certified Advisors presently on staff.
The overview portion also covered several common myths and misunderstandings that cause people to reach incorrect conclusions and, in turn, incorrect decisions about their benefits. For example, the much-publicized myth of Social Security's impending bankruptcy was debunked via an explanation of the program's long-term solvency issue and the reality that, absent legislative action, benefits would be reduced by some 23% by 2034. Panel moderator Gerry Hafer explained the Foundation's viewpoint that corrective action will be taken to ward off the potential benefit cut, and outlined the role that AMAC has taken to promote a bipartisan solution. Hafer and Advisor Russell Gloor concluded the first hour with a review of several common misunderstandings encountered during operation of the Advisory Service.
The remainder of the first hour saw the four Advisors (Hafer, Gloor, Sharon Kleczka, and Eileen Cook,  all of whom are certified via the National Social Security Association) present actual questions received by the Service, discussing the researched answers that were provided.
An open forum during the second hour provided an opportunity for the audience to pose questions and receive personalized answers, and about two dozen attendees took advantage of the opportunity, with several scheduling follow-up sessions with the Service.
The Foundation is planning more panel discussions in the months ahead, so keep an eye on the "Events" page on this site for future sessions. Also, if you'd like to know more about the Foundation's Social Security Advisory Service—a free-to-the-public Service—visit the "Services" page on this site.