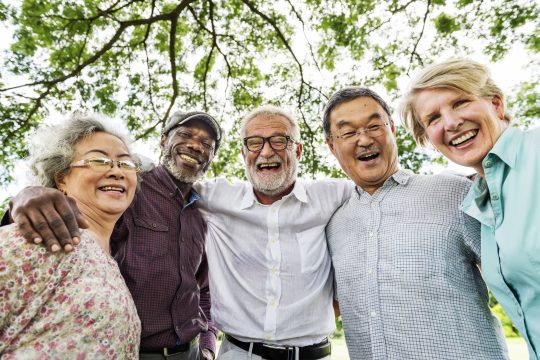 Submitted by Hazel Bridges, Guest Contributor
As a Senior, you have more options for housing these days than ever before, and when it comes to finding the right one for your needs, the task may be a little overwhelming. One multifaceted option is to age in community, which simply means living in an environment with other seniors for various types of support while remaining independent. There are several ways to achieve this model, so it's important to research it and figure out the best move for you. Keep in mind that your budget will play a big role in the decision, and that there are many options available no matter how much you're looking to spend.
Taking a look at local housing prices will be an essential piece of the puzzle, so be prepared to do a little homework online so you'll have an idea of how much you'll spend. This will not only help you create a budget, it will allow you to consider looking for a roommate if you'd prefer. There are many senior communities that provide discounted or accessible housing and amenities made specifically for older adults, so take those into consideration during your search as well.
Here are a few things to think about when you're looking to age in community.
Research cost
If you're thinking about downsizing, it's essential to do a little homework and look up average prices of homes in your area. Because the housing market fluctuates so much and can change drastically in a short amount of time, it's important to have a firm idea of what you're looking for and what your budget is so you can get the best deal. Look both online and in-person, as sometimes you can catch a home that has just been put on the market.
Think about modifications
Home modifications can help keep you be safe and allow you to live independently for many years to come, so if you plan to age in place, think of ways you can make your home work for you. Changes to the bathroom are common for preventing falls, while the addition of stair railings or extra lighting can help you maintain mobility. There are many affordable options, as well as some DIY projects that won't take much time or effort. For example, you can buy a non-slip mat for the bathtub for $6.99 on Amazon and put it to use right away.
Try the village-to-village model
The need for affordable housing, safety, and social opportunities for seniors has prompted a movement called village-to-village living, which enables older adults to live independently but enjoy many of the same benefits as a retirement home. This model allows members to contribute their skills and talents to the "village" and support each other for various needs. Look online to see if a senior village is already offered in your area.
Consider roommates
Many older adults haven't considered the possibility of having a roommate, but it's a great way to save money and ensure companionship and social opportunities as you get older. If you don't have a partner, having a roommate can have many benefits, and if you're comfortable with living with more than one person, you can afford a large home that will give everyone their own space.
There are so many ways to stay safe and happy as we grow older that it's imperative to mull over each one before making a decision. Talk to your friends or family members to get their support and advice, and remember to plan out a firm budget in the beginning to avoid any issues down the road.
Notice: The links provided above connect readers to the full content of the references. The URL (internet address) for these links are valid on the posted date; socialsecurityreport.org cannot guarantee the duration of the links' validity. Also, the viewpoints expressed in these postings are the viewpoints of the original author.