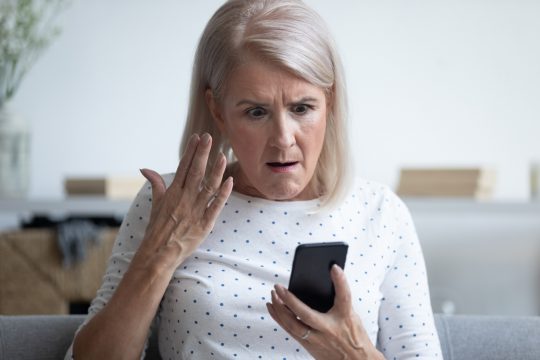 Our ongoing focus on Elder Fraud and its impact on America's Seniors has covered a number of areas in the past year, and we continue to seek ways to promote education and awareness on the importance of protecting yourself from systematic targeting by scammers and fraudsters. We firmly believe that there is no such thing as too much information on this topic, and we have the opportunity to add yet another general set of tips and suggestions for seniors looking for thoughts on ways to stay safe from those who prey on them. Our friends at California Mobility have provided this piece as food for thought as we enter the holiday shopping frenzy.
With all the latest scams targeting seniors, it's important to know how to protect yourself so that you don't wind up losing thousands of dollars to online criminals.
Financial scams targeting seniors, according to the Georgia Consumer Protection Division, are now so prevalent that they are considered "the crime of the 21st century."
Scammers target seniors because they're more likely to go unreported or be challenging to prosecute. They assume that seniors have money sitting in their accounts and while that's not always true (even low-income seniors are at risk), it does mean that they are more vulnerable to these sorts of attacks.
Sadly, it isn't always strangers who target seniors with these sorts of scams, either. It's estimated that more than 90% of all elder abuse is committed by a person's own family members.
Because of this, it's important to stay vigilant. Here are some of the most common senior citizen scams – and how you can protect yourself in the future.
Scams Targeting Seniors: What to Watch Out For
1. Online Shopping Websites
Unfortunately, Internet crime is up 70%, with online criminals stealing more than $4 billion in 2020 alone!
There are all kinds of cybercrimes that can occur, but one of the most common scams targeting seniors has to do with phony online shopping websites. You might click on an ad online or on social media and see stuff you like at a seemingly amazing price – but after you enter your credit card details, you'll either not receive a product at all or get a lower-quality item shipped from overseas.
Avoid clicking on ads to go to retailers' websites. Instead, bookmark URLs of trusted shopping websites and use those instead. If you're thinking about buying from a new website, check online reviews and the Better Business Bureau to get an idea of the company's reputation.
2. Medicare Card Scams
You might get a call or email from a Medicare imposter claiming to have cards with microchips or other benefits. Unless you've requested information directly, Medicare will never contact you without permission for your number or other personal information. They also won't call to sell you anything.
3. Social Security Calls
You might get a call saying that your Social Security number was used in a crime or is going to be "suspended" – and that you need to send money to fix the problem or risk arrest.
This one can be quite convincing. Sometimes, you'll get a call that refers you to a local law enforcement agency where you can see a picture of the person who supposedly used your number in the crime.
Don't pick up the phone if you don't recognize the number – these scammers won't leave a message.
4. Account Takeover Texts
Pay close attention if you get a text message alleging that there is trouble with your credit card, bank account, or amazon order. It will often look urgent, asking you to click on a link and provide personal info to rectify a major problem.
However, you will never get a text from a company like this unless you've specifically requested one – never click on a link and call your bank or credit card company immediately to check for a problem.
How to Avoid Becoming the Victim of a Scammer
There are a few simple tips you can follow so that you don't become the victim of a scammer.
For one, question everything – and everyone (even if it's someone close to you). If something sounds too good to be true, then it probably is. If a company is advertising a product that can allegedly cure an illness, make you look decades younger, or make you thousands of dollars, it's probably not legitimate.
Don't share your personal information off the phone. This includes identifying information, like your birthday or Social Security number, as well as your credit card or banking information. If somebody who claims to be from your credit card company or bank contacts you, ask for a call back number. A scammer will hang up.
Finally, have yourself added to the Do Not Call list. This free national registry prevents telemarketers from reaching you. While it's a good rule of thumb to avoid buying anything over the phone, it will be much easier for you to stick to this advice if the solicitors aren't calling you in the first place.
If you do fall victim to a scam, don't panic. Report it immediately to the FTC by phone or online, and monitor your credit card and bank accounts closely moving forward.
Fortunately, by following the tips above, you should be able to protect yourself from scams and stay safe well into your retirement.
Article specially written for amacfoundation.org by Rebekah Pierce, California Mobilty
Notice: The links provided above connect readers to the full content of the referenced information. The URLs (internet addresses) for these links are valid on the posted date; AmacFoundation.org cannot guarantee the duration of the links' validity. Also, the opinions expressed in these postings are the viewpoints of the original source and are not explicitly endorsed by AMAC, Inc. or the AMAC Foundation, Inc. Providing linkage to external websites does not constitute endorsement of products or services advertised thereon.