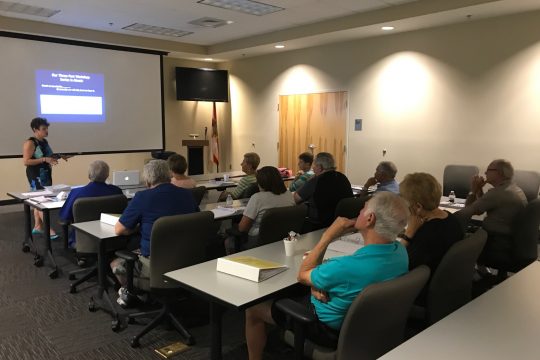 After a year-long, pandemic-driven absence, our highly acclaimed "Sudden Death: Are You Prepared" seminar series returns to live action next month. For the past several years leading up to the cessation of live programs last March, this was the most consistently sought program among our live seminar offerings, primarily because of its recognition as an essential service for our senior constituents.
Some Background
We launched this program in early 2017, after working with a financial services firm to develop a workshop focused on ensuring that survivors are prepared to deal with the aftermath of a loved one's death. The result was a program structured to guide participants through the process of creating a "Survivor Notebook" to help loved ones cope after the death of a spouse or key family member.
The workshop is conducted in three separate parts across a three-week period, from identifying what needs to be considered, to assembling the material in an accessible format, to developing an approach to maintaining the material so that it remains current. The result is a physical roadmap that is of immeasurable value to survivors.
The workshop is delivered in a series of two-hour sessions, featuring a slate of professionals from local organizations. In addition to our financial services partner (Raymond James & Associates), presenters from hospice services, legal practices, and end-of-life services address specific topics during the workshop sessions.
A Long Track Record!
Up until our forced hiatus last year, we had presented this program 22 separate times, with all sessions subscribed to capacity. There is considerable speaker interaction built into the program so we restricted the attendance to an average of 30 participants (generally 15 couples) to ensure attention to specific details and questions raised by attendees.
We also recognized that, since the AMAC Foundation constituency in reality is national, we needed to capture the essential elements of this program for remote, on-demand consumption. Accordingly, we enlisted our key presenters to prepare a recorded version of their content, and subsequently made these recordings available on the Foundation website for access. To get a feel for the depth of the content we cover, these recordings can be accessed here.
The Schedule for Resumption of the Program
The first 2021 offering of the program is scheduled for May 18, May 25, & June 1, with all sessions starting at 10:00 am and ending at Noon at the Lady Lake Library in Lady Lake, Florida. As before, there is no cost for this workshop series, but attendance is limited so you must register to attend. Light refreshments will be served at each session. Notebook materials will be provided. Also, please be advised that COVID-19 restrictions are expected to remain in place for this event, COVID-19 restrictions will be in effect, with face coverings and social distancing required.
The second 2021 edition is scheduled for July 12, July 19, & July 26, 2021 and will be held at The Villages Public Library at Pinellas Plaza, 7375 Powell Road, Wildwood, FL 34785.
To register for either of these events, contact the Foundation office at 888-750-2622 or send us an email at [email protected]. Also, visit the Foundation website's Events page for more information.