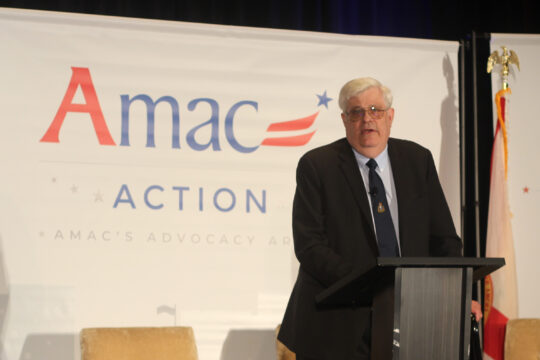 The recent AMAC Action National Conference included an amazing array of gifted and talented speakers and presenters delivering insightful commentary on a wide variety of issues facing the United States. Among those addressing the assembly of AMAC Delegates and Chapter representatives was Minnesota District 06 Delegate and Chapter Leader Keith Kiefer, an AMAC ambassador also serving as National Commander for the National Association of Atomic Veterans, Inc. (NAAV). A video recording of Keith's presentation to Conference attendees on May 21, 2022 can be viewed here.
In his leadership role for NAAV, Keith is helping to spearhead the movement to obtain fairness in the medical recognition and essential treatment for Veterans who, while serving in the U.S. Armed Forces, were affected by radiation poisoning, whether by military clean-up operations or atomic testing. Keith's presentation covered a range of topics explaining the NAAV mission, beginning with a definition of who the organization is and what an "Atomic Veteran" is.
NAAV, he explained, is an all-volunteer organization dedicated to helping Veterans and their families navigate the claims and compensation processes associated with health issues emanating from military radiation exposure. Another significant aspect of what NAAV does is the maintenance of contact with legislators on legislators on issues relating to Veterans in this classification; Keith's remarks included the identification of currently active legislation, and encouraged attendees to contact their congressional representatives and solicit their support.
As Keith explains in his presentation, there are varying definitions of what comprises an Atomic Veteran. The Veterans Administration, for example, considers Veterans involved in atomic testing between 1945 and 1962, as well as those considered occupying forces during Hiroshima and Nagasaki. The U.S. Justice has a somewhat narrower definition, while the NAAV follows a broader definition that includes any Veteran who had the potential to be, or was exposed to ionization radiation and any Veteran involved in the handling and disposition of depleted uranium. In his remarks, Keith provides examples of the various duty tours involving radiation exposure.
Calling it one of the "best-known secrets" involving Veterans, Keith described the NAAV mission of educating the public, legislators, and a variety of governing bodies on the perils these Veterans faced during their service, as well as the steps they've taken to support affected families and to promote legislation in support of those affected.
Keith's presentation included video testimonials from atomic Veterans willing to share their stories, along with a visual tour of many of the actual wartime sites involved in the handling of radioactive materials. The visuals included photos of the "safety equipment" and "protective gear."
So this weekend, as we reflect on the many facets of Memorial Day and as we remember the Veterans who have served our country, we ask that you take a moment to share Keith's heartfelt story of a segment of our nation's wartime history.