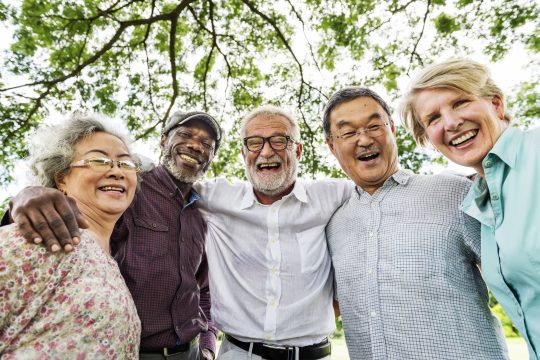 Many of our readers are aware that the AMAC Foundation has a strong interest in supporting the "Aging at Home" or "Aging in Place" option that an overwhelming majority of seniors favor. As a matter of fact, last January we conducted a local "Aging at Home" expo featuring many service providers who can help folks achieve their objective of aging in the comfort of their homes. This event, featuring 15 exhibitors and four workshop speakers, was a huge success for our community, and served as a great complement to our local library's annual Wellness Fair. All in all, a great day for the people of our area, but more importantly, it served to make more folks aware of just what it means to embrace the concept of remaining in familiar surroundings independently as they age.
Despite our in-person seminar programs being suspended due to the COVID-19 restrictions that hit us all six months ago, we've been continuing our research on this very important topic. In fact, we've begun to look ahead to a repeat of the "Aging at Home" expo, probably in early 2021 (that is, if the pandemic restrictions have abated enough to allow for large gatherings!)
In the meantime, as we lay the groundwork for another Expo, we'll from time-to-time be sharing related subjects with our readers via our weekly blog posts. In fact, this week's post features information about an organization dedicated to the support of the very folks our Foundation's work is aimed at…America's Seniors. It's the Administration for Community Living (ACL), an organization created by the U.S. Department of Health and Human Services (HHS) in 2012 with a mission of helping "(a)ll Americans—including people with disabilities and older adults—…to live at home with the supports they need, participating in communities that value their contributions."
ACL brings together the efforts and achievements of the Administration on Aging (AoA), the Administration on Intellectual and Developmental Disabilities (AIDD), and the HHS Office on Disability to serve as the Federal agency responsible for increasing access to community supports, while focusing attention and resources on the unique needs of older Americans and people with disabilities across the lifespan. (Source: https://acl.gov)
For a brief recap of ACL's history, including how its formation brought together the efforts of several key support agencies in 2012 and how it has evolved organizationally through the years, check out their website.
As we move ahead with our "Aging at Home" planning, we will likely be drawing ACL and other related federal, state, and local agencies and institutions, with a continuing objective of channeling relevant guidance to the community we serve. For example, we routinely keep an eye on the National Institutes of Health's National Institute on Aging, where helpful information frequently surfaces, as in the case of their "Aging in Place: Growing Older at Home" page. Bottom line: There's a wealth of information in the air…our challenge is to distill it into helpful guidance that Seniors can apply to their individual situations!