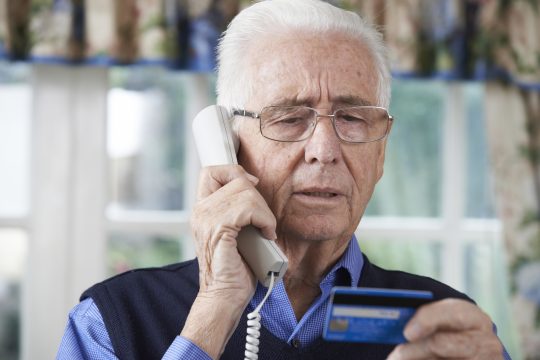 Clearly, one of the biggest annoyances many Americans face these days is the constant deluge of unwanted phone calls from people and organizations attempting to get access first to you, and then to your pocketbook. I know…two weeks ago I went away for a few days and when I returned I had eleven entries in my home message queue, ten of which were hang-ups from unknown phone numbers. I would suspect that there were probably dozens more that came in to my number but were ended before the voice mail software kicked in. It seems at time relentless…a constant invasion of privacy!
Well, don't despair. Action is finally being taken to address this ongoing travesty, as evidenced by an article that appeared in the May/June AMAC Advantage magazine. In case you missed it, here's a reprint:
H.R. 721 – Spam Calls Task Force Act
In January the national monthly volume of spam calls and robocalls—calls that aren't just annoyances but can often trigger criminal activity—reached above five billion, twice that of January 2018. Those numbers leave little doubt of what's been termed "an explosion" in the volume of privacy invasions aimed at America's Seniors. Representatives Charlie Crist (D-FL), Garret Graves (R-LA), Matt Cartwright (D-PA), and Walter Jones (R-NC) recently introduced H.R. 721 creating the Spam Calls Task Force Act of 2019. H.R. 721 directs the attorney general and the Federal Communications Commission (FCC), to focus on the Communications Act of 1934 in search of substantive recommendations to Congress to fi x this ongoing problem. Bringing AMAC's concerns to the bill's sponsors, Weber endorsed their support of a Task Force to establish policies better protecting seniors against invasive spam calls.
And AMAC has added to this initiative by posting an article just a few days ago titled "FCC Robocall Ruling Offers Hope; in the Meantime, Just Hang up on Dodgy Callers, says AMAC." The article explores actions underway at the Federal Communications Commission to provide relief for seniors from the dangers of robo calls and the risks that they introduce. In this article, AMAC Founder and CEO Dan Weber commented ""We are hopeful that the new focus on protecting the elderly from phone scammers will have a positive effect going forward.  In the meantime, just hang up if a caller starts asking for personal information or makes threats." In case you missed this one, here's a reprint:
Seniors may get robocall relief if a new Federal Communications Commission [FCC] ruling prompts phone companies to implement technologies that automatically block them.  Dan Weber, an advocate for older Americans, says the ruling is a step in the right direction.
The president of the Association of Mature American Citizens [AMAC] reports that "while it is still early days, it appears the major phone service providers are ready to cooperate.  It was good news when Verizon was quick to 'welcome' the ruling."
Verizon issued a statement hours after the FCC announced its decision.  In it, the company stated that it is "putting robocallers on notice.  We've got their number and we're taking big steps to stop them from doing what they're doing."
Meanwhile, Apple has announced a new software update will be available in the fall that can automatically block unwanted spam callers.
Weber says, however, that he is taking a wait and see attitude regarding these latest efforts to rein in phone scammers.  "It's a lucrative crime and the perpetrators are tech savvy enough to find new ways to prey on the elderly."
He cites an article on the FCC ruling published by Politico, which noted that: "experts warn that callers slinging bogus tax bills and insurance schemes might still find a way to get through. Calls originating from overseas could present a technical challenge. And the measures are voluntary: phone companies won't be required to take advantage of the call-blocking systems that the FCC is encouraging and could charge consumers fees for using them."
Tech journalist and privacy advocate Paul Bischoff recently prepared an elder fraud analysis of phone scams targeting seniors for the technology research firm, CompariTech.  The Bischoff report provides an eye-opening state-by-state assessment of elder fraud.  He told AMAC that the FCC ruling to stop unwanted robocalls "is a step in the right direction but ultimately might not have the desired impact for consumers."
The report revealed that seniors are primary targets for fraudsters accounting for 38% of scams and that there are an estimated 5 million cases of elder fraud annually resulting in $27.4 billion in losses.
"We are hopeful that the new focus on protecting the elderly from phone scammers will have a positive effect going forward.  In the meantime, just hang up if a caller starts asking for personal information or makes threats.  Don't take their word for it if they say they are calling on official business.  No official will ever ask for you to reveal account numbers, Social Security numbers, Medicare id's over the phone."