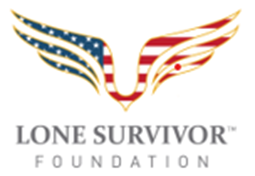 This week is Veterans Week, with Wednesday celebrated as Veterans Day. In honor of this theme, we'll be posting articles this week referencing important aspects of Veterans recognition, beginning with today's introduction of the Lone Survivor Foundation, an organization that restores, empowers, and renews hope for wounded service members, veterans and their families through health, wellness, and therapeutic support.
Lone Survivor Foundation
Founded in 2010 by retired Navy SEAL Marcus Luttrell, Lone Survivor Foundation provides no-cost programs that help veterans and their families recover from the invisible wounds of war.
Marcus Luttrell's #1 New York Times bestseller, Lone Survivor, tells the story of his teammate's strength and their dedication to each other and to their country during Operation Red Wings, a mission to gather intelligence on Taliban leadership in Afghanistan. Marcus was the only survivor of this 2005 mission. Though he was badly injured in the ambush that claimed the lives of his team, he survived until American forces rescued him six days later.
"My experience getting healed up ultimately helped give me the vision to launch a foundation dedicated to caring for those who sacrificed part of themselves in service to America," says Marcus. "We've got to make sure that the hell the veterans return from is not the hell they come home to. That's what was promised, and that's what's deserved. Period. And even when the system doesn't take care of our veterans, the citizens step up and start foundations and programs to help the wounded and the families of the fallen."
Post-traumatic Stress Disorder, Chronic Pain, and Traumatic Brain Injury are all "invisible" on the surface. However, these are very real conditions that are plaguing our veterans and, if not properly treated, can reduce quality of life at best and become debilitating at worst. Trauma causes physiological changes to the brain and nervous system, and symptoms can include anxiety, depression, flashbacks, sleep disturbances, and more.
Due to the complexity of these wounds, their emotional implications, and the unique needs of combat veterans, not all individuals respond to the standard government treatment plan of talk therapy and medication. The power of the Lone Survivor Foundation program comes from taking highly effective therapeutic tools out of the clinical setting and combining them with veteran comradery, education, and a relaxing environment.
Lone Survivor Foundation's original program includes a progression of five-day Post-traumatic Growth sessions that are held in-person at their facilities. Fueled by increased demand and the COVID pandemic, LSF recently added a host of Virtual Programs as well. They are on track to serve 250% more veterans this year than they did in 2019.
Lone Survivor Foundation is a Federal 501 (c)(3) nonprofit organization. For more information on supporting them, please visit www.lonesurvivorfoundation.org.
If you are interested in attending one of Lone Survivor Foundation's no-cost programs, please visit www.lsfprograms.org. They serve US service members (both active duty and veterans) from all military branches and service eras, along with their families, who are experiencing symptoms of invisible wounds as a result of combat. LSF team leaders are combat veterans. Together with licensed clinicians, they lead participants through techniques and discussions that will give you:
Relief from the symptoms of combat trauma
Direction on tools and resources for continued healing
Hope for a strong future for you and your family
The following programs are available:
In-Person Post-traumatic Growth Program: No-cost program for veterans, their significant others, and their children. Programs are held in Texas and North Carolina. All travel expenses are handled by Lone Survivor Foundation.
Counselor Check-Ins: No-cost call or virtual meeting with an LSF Counselor to discuss coping tools, strategies, and resources to help with PTSD, mTBI, & chronic pain symptoms.
Mindfulness Check-Ins: No-cost call or virtual meeting with an LSF Yoga Instructor to share resources, breathing, and meditation techniques to help with PTSD, mTBI, & chronic pain symptoms.
Mindfulness Workshops: No-cost virtual event lead by an LSF Yoga Instructor. Learn about the importance of mindful living and learn strategies to combat stress triggers.
PTSD Symptom Management Virtual Program: A no-cost multi-day virtual program. Veterans will have the opportunity to practice tools for stress relief and improved self-regulation. Each participant will also have the opportunity to check in with a mental health clinician each day.
To begin your application, please visit www.lsfprograms.org.
Notice: The links provided above connect readers to the full content of the posted material. The URLs (internet addresses) for these links are valid on the posted date; socialsecurityreport.org cannot guarantee the duration of the links' validity. Also, the opinions expressed in these postings are the viewpoints of the original source and are not explicitly endorsed by AMAC Foundation, Inc.; or AmacFoundation.org.