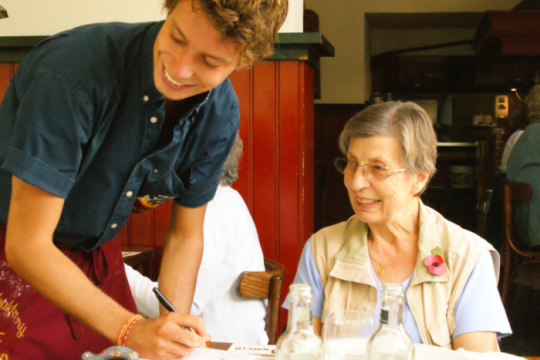 A recently-released report from Generations United and the Eisner Foundation explores the subject of intergenerational programs and relationships, citing their role in strengthening communities. Titled I Need You, You Need Me: The Young, the Old, and What We Can Achieve Together, the 27-page report highlights the reasons why programs that unite young and old can have a tremendous beneficial effect on communities, simply by bridging the gap between generations. Here's a statistic from the report that helps put this in perspective: "53% of American adults say that few of the people they regularly spend time with outside their family are much older or younger than they are." And yet, "More than 3 in 4 wish there were more opportunities in their community for people from different age groups to meet and get to know one another."
The report presents several great examples of programs that can be developed within the community to bring generations closer together. Programs like a "friendly visiting" program that promotes visits to the elderly by school-age children, or mobilizing retirement community residents to socially engage with youth groups to promote interaction. The key is that each generation can learn from the other, and the range of opportunities is limited only by one's imagination. All it takes is initiative to craft and launch a program, and there may even be funding available in community organizations to help out with the cost.
It's a worthwhile concept, and if you want learn more about it, you can access the Executive Summary here, or the full report here.
Notice: The links provided above connects readers to the full content of the referenced documents. The URL (internet address) for these links are valid on the posted date; the Amac Foundation cannot guarantee the duration of the linkss validity. Also, any opinions expressed in these documents are the viewpoints of the original source and are not explicitly endorsed by AMAC, Inc. or the AMAC Foundation, Inc.