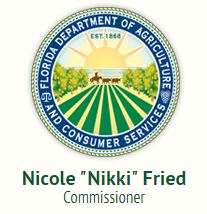 We're all aware of the devastation brought to The Bahamas by Hurricane Dorian, and many of us are moved to contribute financially to aid in the recovery challenges faced by the people of these islands. It's natural to want to help out, but in this age of scams and fraudsters, it's imperative that we  practice due diligence to ensure that our intentions are honored. Unfortunately, there is no shortage of dishonesty preying on these good intentions, and The Florida Department of Agriculture and Consumer Services has taken steps to help us understand which charities are legitimate. FDACS' most recent newsletter covered this topics with an article titled "Avoid Scams When Donating to Hurricane Relief." This newsletter can be accessed here, and is reprinted below.
Avoid Scams When
Donating to Hurricane Relief
Following Hurricane Dorian's devastation of the Bahamas, Commissioner Nicole "Nikki" Fried is encouraging consumers to avoid scams by donating to recovery and relief efforts through registered charities. The Florida Department of Agriculture and Consumer Services is the regulatory agency for charities in the state of Florida.
"To anyone thinking about defrauding Floridians with fake charities after Hurricane Dorian – think again. We are the state agency responsible for regulating charities, we are watching, and we will take action," stated Commissioner Nikki Fried. "Bad actors taking advantage of generosity will not be tolerated, especially after disasters like Hurricanes Dorian. To check a charity's status, use our Check-a-Charity tool, or call 1-800-HELP-FLA."
FDACS Division of Consumer Services has identified over 140 new Hurricane Dorian-related charities soliciting on online platforms like GoFundMe. Department staff has been working to contact these solicitors and explain the requirements to register as a charity in Florida.
Consumers can also confirm the legitimacy of a charity through the department's Check-A-Charity tool, which is one of several resources available to find additional information on charitable organizations in Florida. Consumers can also call 1-800-HELP-FLA (1-800-FL-AYUDA en español) or visit FloridaConsumerHelp.com.
A short list of official Bahamas relief donation resources can also be found at FreshFromFlorida.com/Hurricane .
According to Commissioner Fried and the Florida Department of Agriculture and Consumer Services, here are tips to avoid scam charities:
Check if the organization is properly registered with the state: In addition to checking the organization on our Check-a-Charity tool, consumers can reference the Better Business Bureau's Wise Giving Alliance, which evaluates charities against comprehensive Standards for Charity Accountability to help donors make informed giving decisions.
Ask how exactly your donation will be used, what specific cause it will go towards, and how much of the contribution will be used for program services: Consumers should not assume their donation will be spent a particular way. If you are solicited for a contribution, ask to see written information about the organization, and a breakdown of how the money is being utilized.
Ask if your donation is tax deductible: Although many organizations are tax-exempt and contributions to their causes are tax-deductible, not every organization that solicits contributions is tax-deductible. Ask for the organization's tax-exempt number issued by the Internal Revenue Service (IRS) or use the IRS Tax Exempt Organization Search tool.
How to verify a HURRICANE RELIEF CHARITY
Find lists of vetted charities on:
give.org
charitynavigator.org
charitywatch.org
guidestar.org
Be alert to names that closely resemble those of better-known reputable organizations.
Designate the relief effort you wish to support.
Search the charity name online. Do people say it's a scam?
Reseach charities that spring up overnight.
Be skeptical of callers thanking you for a pledge you don't remember making.
Report scams to ftc.gov/complaint
Information provided by the Federal Trade Commission -ftc.gov
Notice: The link provided above connects readers to the full content of the posted article. The URL (internet address) for this link is valid on the posted date; socialsecurityreport.org cannot guarantee the duration of the link's validity. Also, the opinions expressed in these postings are the viewpoints of the original source and are not explicitly endorsed by AMAC, Inc.; the AMAC Foundation, Inc.; or socialsecurityreport.org.