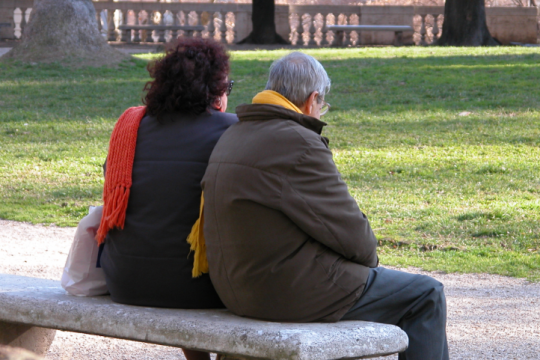 (Written by AMAC's Eileen Cook)
According to the anti-hunger group "Feeding America", nearly eight percent (or 5.5 million) of Americans age 60 and older were "food insecure" in 2017.[1]  Although the rate of food insecurity among seniors is lower in recent years, it is more than double what it was in 2001. This is not just affecting "seniors" but this year's study also included the introduction of a new report: Hunger Among Adults Age 50-59 in 2017. Findings reveal that in 2017, an estimated 11.3%, or 4.8 million, of older adults age 50-59 are food insecure.[2]
So, what does food insecurity mean? Food insecurity means having limited access to enough nutritious food to live a healthy lifestyle.  Food insecurity has negative effects for seniors, particularly given the unique and problematic health, economic, and nutritional challenges that come with aging.
Although Social Security is a major source of income for most seniors, the average monthly benefit ($1,467 for retired workers) results in an annual income ($17,606). That is only marginally higher than the federal poverty line ($12,490 for a single person in 2019).[3] [4]. These low income levels tend to strain the ability to maintain a steady supply of healthy dietary content.
And, for seniors with limited financial resources, the cost of housing can be an additional strain. Those seniors who are renters face especially high constraints, spending more than 30 percent of their income on housing than seniors who are homeowners. This translates to an even higher level of food insecurity–as much as four times as their homeowner counterparts. [5]
Today one in five Americans lives in a multi-generational households; although this type of household structure can yield many positive benefits, seniors who reside with a grandchild experience food insecurity at twice the rate of seniors in households where there is no grandchild present.[6]  It is believed that seniors may be ensuring the food security of their grandchildren at the expense of their own dietary needs as they deal with the stress of caregiving responsibilities and stretch already-limited financial resources to support other household members.[7]
There is help for those seniors
One of the main federal programs helping seniors is starved (no pun intended) for money. The Older Americans Act (OAA) originally enacted in 1965 supports a range of home and community-based services, such as meals-on-wheels and other nutrition programs, in-home services, transportation, legal services, elder abuse prevention and caregivers support. Its funding has lagged far behind senior population growth, as well as economic inflation.
While OAA funding in FY 2019 is 22 percent above what it was in FY 2001, the ages 60 and older population has grown by 63 percent since 2001. In 2015, the US Government Accountability Office (GAO) updated a 2011 report by the OAA and found that many low-income older adults who were likely to need meals continued to not receive them.[8] The GAO found that only 10 percent of an estimated 16.6 million low-income older adults received meals provided by the OAA. An estimated 24 percent of low-income older adults were food insecure and about 83 percent of them did not receive any meal services. A related statistic notes that food-insecure older adults have worse health outcomes compared with those with consistent access to food.[9]
Meanwhile, according to the U.S. Department of Agriculture, only 45% of eligible adults 60 and older have signed up for another source of federal aid: SNAP, the food stamp program for America's poorest. Those who don't are typically either unaware they could qualify, believe their benefits would be insignificant, or can no longer get to a grocery store to use them.[10]
Seniors without steady, nutritious food can wind up in hospitals, since malnutrition exacerbates diseases and prevents healing, which drive up Medicare and Medicaid costs, hitting taxpayers with an even bigger bill. Sometimes seniors' relapse, or worse, quickly after being discharged.
As America continue to age, senior food insecurity is likely to remain a personal and public health challenge in the years to come.
[1] https://www.feedingamerica.org/research/senior-hunger-research/senior
[2] Ibid
[3] https://www.ssa.gov/policy/docs/quickfacts/stat_snapshot/2019-03.pdf
[4] https://aspe.hhs.gov/2019-poverty-guidelines
[5] https://www.jchs.harvard.edu/blog/older-adults-increasingly-face-housing-affordability-challenges/
[6] https://www.gu.org/explore-our-topics/multigenerational-households/
[7] https://www.ers.usda.gov/webdocs/publications/46719/30815_fanrr34-13_002.pdf?v=0
[8] https://www.gao.gov/assets/680/670738.pdf
[9] https://www.feedingamerica.org/sites/default/files/research/senior-hunger-research/senior-health-consequences-2014.pdf
[10] https://khn.org/news/starving-seniors-how-america-fails-to-feed-its-aging/