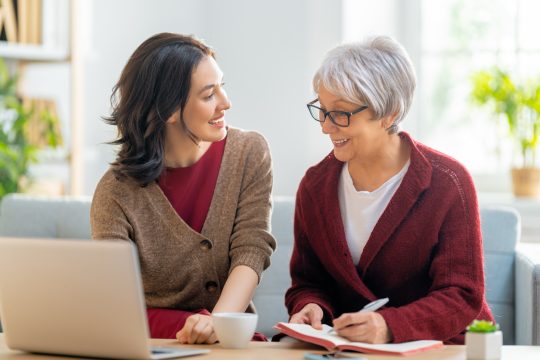 We live in a society where many people see their older loved ones as burdens rather than assets. Remember, however, that your aging loved one has the right to make their own decisions and take care of themselves. As such, you should lend a helping hand in managing finances and ensure they have access to resources that will help them enjoy their golden years as fully as possible.
1. OPEN CONVERSATION – this is the best way to help your loved ones manage their finances. The fear of making suggestions is often viewed as criticism or perceived to sabotage a relationship. However, this is a great way to start a conversation that should shed some light on how you can help your loved ones if they are having trouble managing their money. The idea here is not to criticize them but instead provide them with advice and suggestions to consider.
Start to ask your aging loved ones the following questions:
Have they controlled their finances well in the past? Have they managed to save adequately for retirement? Do they have any outstanding debts, such as credit cards or medical bills?
2. TAKE INVENTORY – this is also an excellent way to help your loved ones manage their finances. The idea here is to find out what they already have and ensure they have the resources they need. Have a look at their house, car, furniture, clothes, and other assets they have. It is also a great idea to check out their insurance policies and have coverage. And other possessions and figure out what they already own before purchasing anything for them. You can even start comparing the high-end items in your home with what is currently in your aging loved one's living room or bedroom.
Start to ask your aging loved ones the following questions:
What do they have that they should get rid of? Do they have enough insurance? Do they have enough coverage for their retirement?
3. MAKE A BUDGET – this is another good way to help your aging loved ones manage their finances. The big mistake you can make is to take over all the finances of the older generation and forget to consider how you will be contributing to their expenses. So, sit with them and figure out a budget, which both of you can agree on, and stick with it. By doing this, you'll make sure your loved ones have the money they need when they need it.
Start to ask your aging loved ones the following questions:
How much money will both of you contribute per month? How much of your savings do you plan to contribute to retirement accounts? What kind of expenses will you allot for entertainment, dining out, and other luxuries?
4. REVIEW RECEIPTS – for many people, perhaps this is something they struggle with the most. However, the older generation does not have the eyesight or hand strength to do this effectively. So, it is best if you can help them review their receipts after going grocery shopping or spending money on anything else.
Start to ask your aging loved ones the following questions:
Do you need any assistance with this task? Would you like me to do it for you? Is there any chance you could find someone to do this for you for free or for a fair price, so you don't have to hire an accountant?
5. COUNSELING – if your aging loved one struggles with managing their finances, they may benefit from some counseling or financial literacy classes. Local resources can be found in your community and even online, where classes are offered. You should guide them to such resources and let them know that you believe this will help them better manage their finances.
Start to ask your aging loved ones the following questions:
Would it help if I found you a good financial advisor? Would you consider paying for a course on managing and saving your money?
6. TAKE THE RIGHT RISK – retiring can be stressful enough, especially if you are not prepared. When it comes to paying for medication or a home healthcare facility for your loved one, take some extra time to research and make sure that you won't regret the decision later on. Also, you should evaluate all your options so that you don't end up spending your money on something that won't work.
Start to ask your aging loved ones the following questions:
Which home healthcare facility would be the best choice for you? Which prescription medications do you need, and will insurance cover them?
7. MAKE SURE YOU HAVE THE RIGHT LEGAL DOCUMENTATION – mainly if you have never dealt with medical care for your parent or child, you might not know all the things you will need to get them covered in case of an emergency. So, make sure to double-check the coverage they'll receive and make sure that they are aware and understand the types of bills they will be receiving (since they will likely be much less than their usual expenses.) Also, having the financial power of attorney in place is a good idea, so you can access their accounts if an emergency arises.
Start to ask your aging loved ones the following questions:
Is there a way to look at your insurance card and find out what services are covered? Do you need assistance choosing a plan? Which bills will be coming up each month, and how much will they be?
Information made available for amacfoundation.org by Andrea Gibbs, Content Manager at SpringHive Web Agency, a company that offers web design services, maintenance, and Internet marketing. She specializes in content marketing, social media, and SEO. She also serves as a blog contributor at Serenity Senior Care. She's an avid personal development enthusiast and an expert in the field of health and fitness. When she's not writing she can be found running hills or hiking trails, rooting for her favorite team (the Pittsburgh Steelers), or watching a good Netflix series.
Notice: The links provided above connect readers to the full content of the referenced information. The URLs (internet addresses) for these links are valid on the posted date; AmacFoundation.org cannot guarantee the duration of the links' validity. Also, the opinions expressed in these postings are the viewpoints of the original source and are not explicitly endorsed by AMAC, Inc. or the AMAC Foundation, Inc. Providing linkage to external websites does not constitute endorsement of products or services advertised thereon.