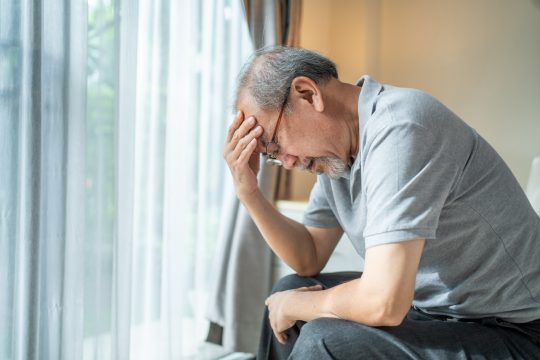 Your retirement should be all about enjoying your golden years. You no longer have the distraction of a job to deal with and can instead focus more energy on friends, family, and hobbies. Unfortunately, the aging process itself can be stressful, both mentally and physically, making it tough for some older people to enjoy their later years. This can result in a vicious cycle, in which stress causes symptoms that further negatively impact a person's wellbeing, like loss of appetite, anxiety, and trouble sleeping. The best thing you can do is to prepare yourself for common stressors that come with aging.
Address stressful health issues with useful products and exercise
One issue that seniors may find troubling is the uncontrollable impact of aging, which can result in dealing with an increased amount of health problems. Any type of health issue can occur with age, such as dysphagia (a swallowing disorder) and sarcopenia (which refers to the natural loss of muscle mass that occurs with aging).
If not treated properly, your health problems can result in decreased quality of life, including diminished strength and flexibility. In turn, this can lead to more stress; for instance, seniors may become more worried about falls, which are more hazardous with older age, since they are related to loss of balance and agility.
It's important to get the right treatment to help manage your health problems and reduce stress. Your treatment plan can include medications as well as medical products and equipment.
Additionally, regular exercise helps seniors stay fit and decreases the likelihood of sarcopenia and similar age-related ailments. In addition to eliminating worries about physical ability, exercise itself counteracts stress. Since your joints tend to become less stable with age, look for low-impact exercises you can do without stressing knees or ankles. Popular options include water aerobics, chair exercises, and cycling.
Seek out help for your emotional health as needed
Mental health is just as big of a topic as physical health when it comes to stressors related to aging. For example, Time reports that one in three seniors is lonely and that such feelings of isolation are linked to problems like depression and anxiety. On top of that, loneliness is associated with a higher risk of heart attacks, strokes, and early death.
Staying social is essential as you get older and can help keep you mentally sharp. Find ways to get involved, whether it's joining a book club, contributing to a community garden, or volunteering for a local charity. If you do find yourself struggling emotionally, don't hesitate to reach out for professional help.
Keeping a clutter-free home can also improve focus and reduce stress. If you have a lot of paper records, consider scanning and digitizing these documents. Once you've scanned your documents and saved them as PDFs, you can combine PDFs into one easily accessed file using an online merging tool.
Be proactive about money management to avoid financial stress
Sadly, one of the most common sources of stress for older people is money. Once people are retired, they may miss the regular source of income they once had. In addition, medical costs tend to rise with age, and an unexpected health event can undermine a person's financial security. One way to reduce financial strain is to refinance your home. Explore rates and terms to determine whether this is a good option for your circumstances. Another helpful practice is to create a strict budget to keep track of your expenses and income. Make sure you are sticking to it by downloading a spending tracking app like Mint. When it comes to purchasing items you need, from groceries to phone plans, always shop around and look for senior discounts. Sites like SeniorDiscounts offer roundups of deals available for older persons.
Another way to reduce financial strain is to start your own business, and there's still plenty of time to get started. If you're starting a business as a senior, avoid dipping into funds set aside for your retirement. Instead look for low-cost startup opportunities or look to take on a partner or find funds through angel investors or crowdfunding. Use a quick and easy business card maker to create clean, professional business cards, and focus on your areas of interest or expertise.
Getting older isn't always easy as it can present unique hurdles. However, the process can still be enjoyable if you know what to expect—and take the time and trouble to prepare accordingly. Let the above tips serve as your guide. By addressing potential physical, mental, and financial stressors proactively, you will be paving the path for stress-free aging.
This article is brought to you by the AMAC Foundation, which plays a vital role in helping build the services that will enrich the lives of America's seniors. For more information, please contact us today!
Notice: The links provided above connect readers to the full content of the referenced information. The URLs (internet addresses) for these links are valid on the posted date; AmacFoundation.org cannot guarantee the duration of the links' validity. Also, the opinions expressed in these postings are the viewpoints of the original source and are not explicitly endorsed by AMAC, Inc. or the AMAC Foundation, Inc. Providing linkage to external websites does not constitute endorsement of products or services advertised thereon.