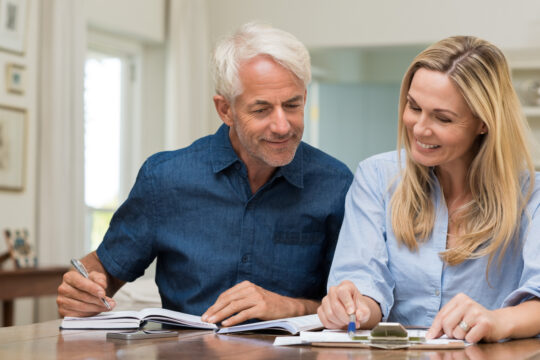 As you approach retirement age, it is crucial to understand how your financial standing and various benefits will be impacted. Some of the most important areas include savings accounts, work income, retirement plans, Social Security and Medicare benefits, taxes, investments, and insurance coverage. It is also a good idea to seek legal counsel to help you plan for this next chapter in life.
Find the Right Retirement Plan for You
Before you start retirement planning, it's important to know the difference between a 401k, IRA, and other options. A 401k is an employee-sponsored retirement plan that makes contributions through withholdings from your paycheck. You can also set aside pre-tax income and invest it in stocks, bonds, or mutual funds. IRAs (or individual retirement accounts) come in two types: traditional and Roth. With traditional IRAs, your contributions are tax-deductible, but withdrawals after you reach 59 ½ years old, will be taxed as ordinary income; however, with a Roth IRA, contributions are not tax-deductible. But those withdrawals after 59 ½ years old would not be taxed at all.
Check Your Beneficiary Designations
Check your beneficiary designations. A beneficiary designation is an important part of your estate plan because it indicates how you want your assets distributed when you pass away. This can be especially critical for retirement accounts, which have restrictions on how beneficiaries can access their money. Before making any changes to your beneficiary designations, ensure that all of your current beneficiaries are up to date and reflect who you would like to receive the account's funds upon death. If other people are included or excluded from these plans, take care that these changes are reflected accurately. You should also check all other types of assets (such as real estate) and make sure that financial institutions have properly recorded any changes made throughout life.
Educate Yourself about Taxes
It's important to educate yourself about taxes. Taxes are a big part of retirement planning. Knowing the difference between a Roth IRA and a traditional IRA can be the difference between paying tax on your money now and not paying tax on your money later. Your 401(k) is another great way to save for retirement, but you may want to consider whether it's better for you in its traditional form or as a Roth 401(k). You'll also want to know the tax implications when withdrawing money from a retirement account so that you don't end up owing more than what was originally deposited into it.
Know What to Expect from Social Security and Medicare
You'll want to familiarize yourself with Social Security and Medicare. Social Security is a federal program that provides benefits to retired workers and their dependents, disabled people, and the spouses of deceased workers. Benefits are based on your earnings history, which you can check on the Social Security Administration website with a mySSA account.
You'll find that once you reach age 62 you are eligible for retirement benefits, and you'll receive them monthly until your death. It's important to know, though, that beginning to draw benefits at age 62 will result in a reduction in the monthly benefit payment available to you. If your full retirement age is 67 (the full retirement age for those born after 1959), this reduction would be 30%. Also, waiting until age 70 would cause your monthly benefit to grow by 24%.
If your spouse had passed away before you were eligible for Social Security benefits, there's no need to worry; if your spouse received spousal payments when they died, those payments would continue automatically for their full duration.
These decisions have a substantial affect on your cash flow in retirement, so it's critical that you fully understand all the implications. It's important to discuss Social Security with credible sources before making any decisions, since with very few exceptions, they are permanent and irrevocable. The AMAC Foundation offers a service of this type, with trained and accredited Social Security Advisors available to consult with you, free of charge as part of its public benefit mission.
Seek Legal Counsel
Seeking legal counsel is one of the most important steps in retirement planning. An estate planning law firm in Los Angeles can help you develop a comprehensive plan to ensure that your assets are distributed properly, reduce estate taxes, and ensure no surprises when it comes time to transfer your assets.
They can also help you set up a plan for paying for health care expenses during retirement. Many retirees assume that Medicare will cover their medical bills, but this is not always true. A good plan will include provisions for long-term care insurance and how to pay for premiums if Medicare does not cover them.
Conclusion
When it comes down to it, there are a lot of different routes you can take when planning for retirement. What works best will be entirely up to your individual needs and preferences. This blog post has covered several of the most popular options out there today, but you should make sure that you're fully educated on all of them before making any decisions about your finances. Now is the time to start taking action towards planning for your future. Don't hesitate–begin saving as soon as possible.  
This article has been contributed by Ms. McKenzie Jones for sharing with readers as part of the AMAC Foundation's role in helping enrich the lives of America's seniors. McKenzie is your typical Midwestern gal. When she is not writing or reading, she can be found training for her next half-marathon, baking something sweet, playing her guitar, or cuddled up with her golden retriever, Cooper. She loves watching football, fall weather, and long road trips.
Notice: The links provided above connect readers to the full content of the referenced information. The URLs (internet addresses) for these links are valid on the posted date; AmacFoundation.org cannot guarantee the duration of the links' validity. Also, the opinions expressed in these postings are the viewpoints of the original source and are not explicitly endorsed by AMAC, Inc. or the AMAC Foundation, Inc. Providing linkage to external websites does not constitute endorsement of products or services advertised thereon.