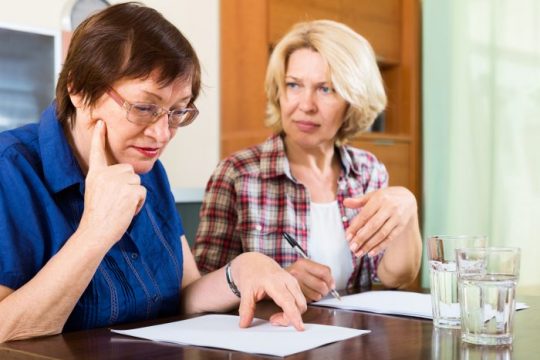 (Note: This article is scheduled to appear in the next issue of AMAC's Advantage magazine)
Propelled by a unanimous vote, the U.S. Senate recently approved the Strengthening Protections for Social Security Beneficiaries Act of 2018. Supported by AMAC, the bill is designed to "strengthen and improve the representative payee program to better protect those Social Security beneficiaries who are unable to manage their benefits on their own."
What is the "Representative Payee Program?"
This Social Security Administration (SSA) program, first implemented in 1939 and last updated in 2004, is the mechanism that allows for Social Security and Supplemental Security Income (SSI) payments to be received and managed by designated third parties when a beneficiary is determined to be incapable of managing their own finances. Generally, family members or friends are appointed to serve as representative payees, although qualified organizations may at times assume this responsibility. About 5.5 million Social Security beneficiaries today have a representative payee assigned to help them.
The Representative Payee assumes fundamental responsibilities on behalf of the beneficiary, including ensuring their basic needs (clothing, housing, food, and medical care), managing finances, and interacting and communicating with SSA and the beneficiary in regard to Social Security-related matters. RPs are required by law and regulation to keep records and account for the use of benefits via an annual Representative Payee Report.
SSA's responsibilities under the program begin with approval of the Representative Payee via a documented "capability determination" to verify the necessity of appointing a representative payee, and continue with regular monitoring of payees and their activities on behalf of the beneficiary.
Why H.R. 4547?
Citing "Horrific cases of abuses" involving the Representative Payee Program, the House Ways and Means Committee conducted hearings earlier this year to determine the problems and to outline improvements necessary in the SSA processes and procedures governing the Program. From weaknesses in the upfront capability determinations to deficiencies in the monitoring of payee activities, the hearings identified areas where improvements were in order.
The SSA's Office of the Inspector General reported over 16,000 allegations of representative payee fraud in 2016, encompassing roughly $10 million in abuse, citing claims from SSA, other law enforcement agencies, private citizens, private and public organizations, victims, Congress, and other sources as the basis for action.
What Does H.R. 4547 Accomplish?
The bill calls for increases in the number of RP reviews, along with changes in the review process designed to improve the effectiveness of the reviews. For the beneficiaries themselves, the bill enables them to designate payees in advance of actually needing one and requires SSA involvement in the advance determination process. Portions of the bill also address improvements in coordination between SSA and child welfare agencies, strengthen the controls on acceptability of RPs, and reduces certain reporting requirements for families serving as RPs for resident parents.
Following Senate passage of the bill, House Ways and Means Committee Chairman Kevin Brady (R-TX) and Ranking Member Richard Neal (D-MA) summed the Bill's passage with this statement: "This bipartisan bill will better protect the millions of Americans who depend on the help of representative payees. By strengthening oversight, improving payee selection, and reducing the burdens put on families, this bill will make much-needed changes to strengthen this program."
AMAC President and Founder Dan Weber announced support for H.R. 4547 in a December, 2017 letter to Committee Chairman Johnson Sam Johnson (R-TX) and Ranking Member John Larson (D-CT), calling the bill a "commonsense, timely, and forward-thinking solution that will positively benefit millions of individuals currently retired and preparing to retire nationwide."