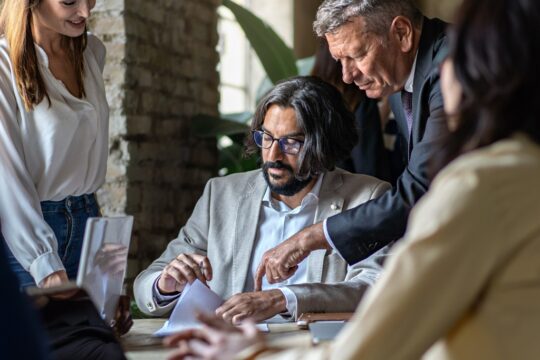 Scaling Up: Strategies for Launching a Business with Rapid Growth Potential in 2023

Editor note: The following article has been provided by Grant Polachek to AMAC Foundation and our Senior and Veteran readers and business owners.
Entrepreneurs and aspiring business owners in today's fast-paced business landscape are constantly searching for strategies that could launch ventures with rapid growth and expansion potential. Achieving this requires taking an integrated approach involving strategic planning, using technology and automation, developing a scalable infrastructure platform, effective marketing/branding strategies implementation, as well as innovation/adaptability adoption – we will discuss each key area and offer insight to aid you in this exciting journey of starting up an exponential business venture!
This article will delve further into each key area to provide valuable guidance as you embark on this exciting venture!
Strategic Planning in 2023
In 2023, rapidly scaling a business requires an equally solid strategic foundation. Strategic planning involves setting clear goals, understanding the market landscape, defining target audiences, and crafting an action plan for sustainable growth. To do so successfully, conduct thorough market research to gain an insight into customers' needs and preferences as well as competitors' strategies and any unexploited opportunities; create measurable milestones along this journey and regularly evaluate progress — then adjust as necessary along the way!
Leveraging Technology & Automation
Technology plays an integral part in modern business operations and growth. If starting in 2023, take full advantage of technology's benefits by harnessing its potential. Leverage the power of automation for streamlining processes, improving efficiency, and providing seamless customer experiences by adopting robust software solutions like accounting, inventory, and CRM management to simplify these activities while freeing up time for more strategic initiatives.
Establish a Scalable Infrastructure
When your company experiences rapid expansion, it is essential to invest in robust systems, processes, and technologies that can keep up with the increasing demands and workload, including prominent premium names. Scaling your operations, supply chain, and customer support accordingly becomes essential for anchor review. You should be prepared to scale these areas as needed. For example, incorporating cloud solutions, outsourcing non-core functions, or forming strategic alliances can all contribute to creating an infrastructure that is capable of accommodating rapid expansion and meeting anchor review requirements. Additionally, selecting appropriate names for your website can enhance your online presence and brand recognition, ensuring that it aligns with your company's growth trajectory and expansion goals.
Marketing & Branding Strategies
To successfully expand a business, effective marketing and branding strategies are crucial. Begin with crafting an engaging brand story that resonates with target customers while communicating your unique value proposition, then employ digital channels like social media, content marketing, search engine optimization (SEO), influencer collaborations, or influencer marketing as ways to expand reach while engaging potential customers and increasing the reach exponentially. Leverage data analytics for tracking the effectiveness of your efforts as well as making data-driven decisions regarding optimization efforts.
Innovation & Adaptability
These key drivers of rapid business growth in 2023 include innovation and adaptability. Stay abreast of industry trends, technological advancements, and consumer demands. Foster creativity within your organization to gain a competitive edge by encouraging a culture of innovation within it, foster creativity by exploring new ideas to gain a competitive advantage, and adapt quickly to changes in markets, consumer behaviors, or regulations while adopting an adaptable mindset which supports continuous alterations of your business model resulting in long term sustainability of growth and success for a business to achieve sustained expansion success over its lifespan.
Conclusion
Launching a business with rapid expansion potential in 2023 requires taking an integrated approach that encompasses careful planning, using technology effectively, creating scalable infrastructure solutions, and employing effective marketing and branding strategies, plus welcoming innovation and adaptability into account. By aligning efforts in these areas, you can position your enterprise for rapid expansion while capitalizing on opportunities provided by today's rapidly shifting business environment. Remember, success does not lie only with the initial launch but also in being flexible enough to adapt, iterate, and continuously optimize strategies as the market evolves in real time!
---
Notice: The links provided above connect readers to the full content of the referenced information. The URLs (internet addresses) for these links are valid on the posted date; AmacFoundation.org cannot guarantee the duration of the links' validity. Also, the opinions expressed in these postings are the viewpoints of the original source and are not explicitly endorsed by AMAC, Inc. or the AMAC Foundation, Inc. Providing linkage to external websites does not constitute endorsement of products or services advertised thereon.