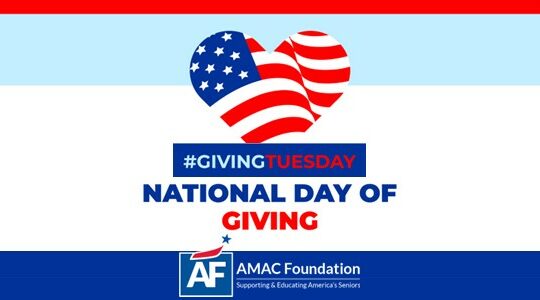 AMAC Foundation is participating in #GivingTuesday
Created in 2012, Giving Tuesday is a day of global generosity. Although its focus does not have to be on monetary donations, it is a primary helper during year-end contribution campaigns. It is predominately popular amongst those who love to scroll the internet and social media.
This year, for the first time, AMAC Foundation will participate in #givingtuesday from November 29th to December 9th.
AMAC Foundation's primary goal is to help protect and educate seniors and Veterans. The Foundation also finds a benefit in providing resources and tools to the younger generations and mature Americans who fall into the roles of caregivers, family members, and friends. We know many need help specifically when caring for seniors or veterans.
Although our primary goal for #givingtuesday will be a year-end contributions campaign, we are excited to enhance and expand our capacity to reach more Americans. In 2023, we anticipate launching a revamped Veteran collaboration program, outreach event growth in the local and national communities, and of course, continued support by providing free responses through our Social Security Advisor Services (SSAS).
We know our local seniors are very active in the community and love to help people; therefore, the Foundation will look to enlist the help of volunteers.
AMAC Foundation appreciates any and all the support you can give, so we can continue to reach the senior and Veteran communities. We want to ensure they have the tools and resources they need!
To learn more about #givingtuesday, go to https://www.givingtuesday.org/.