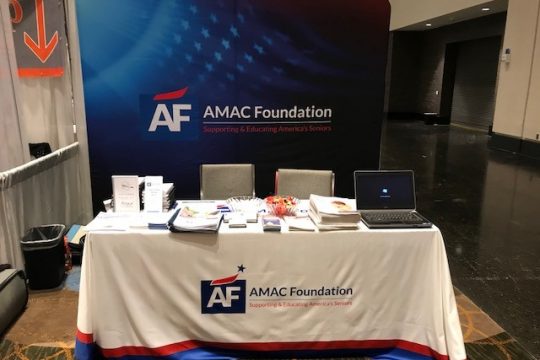 Sunday, February 18, Orange County Convention Center
Representatives of the AMAC Foundation greeted thousands of folks at yesterday's "Successful Aging Expo" in Orlando, Florida. Billed as "the largest living and planning expo for active adults and seniors, and sponsored by the Orlando Sentinel, the seven-hour event served the community as an "informative, inspiring, and entertaining" experience for Central Florida seniors. Our Foundation was a member of the Expo's roster of event partners and sponsors, prominently displaying information on AMAC and the AMAC foundation, greeting many of AMAC's members visiting our booth, and sharing insights into the missions of both AMAC and the AMAC Foundation.
A common theme we encountered among non-member visitors was "Who (or what) is AMAC?" A large segment of our time at the Expo was spent addressing this question and explaining who we are and what we do, and the many supportive comments we received were heartening. Our representatives also spent quite a bit of the day explaining the Foundation's services, most notably our rapidly growing "Social Security Advisory Service." In addition to receiving many endorsements on the need for this service, we were pressed into on-the-spot service answering specific questions from attendees. In photos at bottom Gerry Hafer (right photo) is shown addressing a detailed question from an attendee, while Eileen Cook provides an analysis of a visitor's Social Security query.
The materials distributed to visitors at the AMAC booth were well-received by attendees, so much so that by early afternoon our supplies of brochures, magazines, and article reprints were pretty much depleted. Our booth also featured a three minute video overview of the Foundation and it's mission, thanks to the efforts of AMAC's resident graphic arts specialist, Emily Zurl.