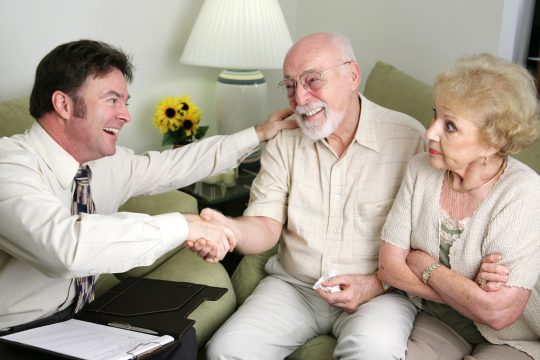 Today's post in the Elder Fraud series focuses on understanding "elder fraud" and the types of scams faced by intended victims. How to spot a fraud situation and how to prevent becoming a victim are addressed.
So much is written about the serious–and growing–scourge of "elder fraud" and its devastating impact on America's Seniors. Some sources call it "elder financial exploitation," some call it "elder financial abuse," and still others call it just plain "crime." No matter how you label it, the reality is that it's a plague in which unscrupulous manipulators prey on Seniors in a variety of ways, defrauding them of billions of dollars annually–some estimates peg the annual loss at more than $36 billion. It's not a minor problem.
Types of Elder Fraud
To set the stage for understanding the embodiment of Elder Fraud, let's take a look at the most common approaches:
Reverse Mortgage Fraud Schemes – The exploitation of home equity conversion mortgage (HECM) arrangements, where con artists employ equity theft and foreclosure rescue schemes, along with schemes that enable them to steal HECM funds via fraudulent "investment" products.
Telemarketing/Internet Fraud – The crimes comprising this category are legendary, as in the case of the Nigerian letter fraud operation in which fictitious government officials offer to share an opportunity to transfer millions of dollars out of the country–all you need to do is provide bank account information to receive the funds. Advance-fee schemes also fall into this category, characterized by a a victim offered an "opportunity" to pay money in advance for something they never actually receive.
Health Care Fraud – Not a direct fraud per se, but Fraud, waste, and abuse in our health care system is a problem that affects both public and private payers. Unusual or questionable charges appearing on explanation of benefits reports are indicative of fraud situations here.
General Investment Schemes – Seniors are a likely target for too-good-to-be-true ploys because they're dealing with fixed-income situations, and are seeing the cost of living steadily outstripping their ability to cope. Making this situation even more attractive for the crooks is the likelihood that targeted seniors have accumulated substantial financial resources. As a result, the "get rich(er)" ruse tends to appeal to the many unsuspecting people easily swayed by smooth talkers.
Grandparent scams – This is an area that tugs in the emotions of Seniors, especially when the scammer knows or can find out that the grandchild's parents can't be easily contacted for confirmation, or that the grandparent has a fond but distant enough relationship with the grandchild to not recognize the obvious signs of a trick. The fraudster has a call placed to the grandparent describing some sort of emergency…frequently a need for bail money…that needs to be resolved in secret. It may be unbelievable that this is sometimes a successful scam, but it is!
Advance-fee fraud – This one is attractive because it brings with it the promise of a financial windfall, sometimes a fake inheritance, sometimes a winning lottery entry, sometimes free prizes like a call or cruise, and on and on. All you need to do is take care of a small "processing fee" to get the ball rolling. This up-front fee that you pay is the common denominator in this type of fraud and it's a good bet that you'll never see the cash proceeds. Even worse, in paying the fee, you've likely compromised the security of your personal financial system.
Fraudulent charity schemes – As despicable as it sounds, fraudsters often spring up in the wake of disaster situations, like hurricanes, earthquakes, or any form of natural disaster. They often take the form of a telephone or email solicitation, appealing to the natural instinct in many–especially seniors–to want to help others. Careful research is important here to verify the authenticity of the charity before contributing and, after verification, seeking an official website through which to make the contribution rather than cash or check.
These are just a few examples…the creativity of the criminal element is generally limitless. Where there's an opportunity to steal, they will!
Spotting Elder Fraud
In many cases, Seniors are initially victimized without the knowledge of family and trusted caregivers. In these cases, it's essential to look for indicators, like actions that suggest embarrassment or exhibit an unexplained loss of financial resources. Seniors who have been scammed and are sensitive about being criticized for infirmities may often try to hide the impact of fraud that has been perpetrated on them. After all, they may see it as a challenge to their independence.
For those family members and trusted caregivers closely involved with a Senior's finances, the painfully obvious drop in financial resources is easy to spot. But what's more insidious is the situation where small amounts of money evaporate over a longer period of time, so it's essential that frequent "financial wellness" conversations and detail check-ups, like checking account reconciliations, income tax planning, etc. become a part of regular communications.
Preventing Elder Fraud
Keeping yourself and your loved ones safe from criminal predators involves a fair amount of basic common sense, but the emotional aspects of dealing with well-experienced scammers often cloud judgement and lead to being unwittingly trapped into a bad situation. Beyond that, there are several key ways everyone can focus on protecting themselves and their families and friends, and the FBI has provided a fairly complete list:
Recognize scam attempts and end all communication with the perpetrator.

Search online for the contact information (name, email, phone number, addresses) and the proposed offer. Other people have likely posted information online about individuals and businesses trying to run scams.

Resist the pressure to act quickly. Scammers create a sense of urgency to produce fear and lure victims into immediate action. Call the police immediately if you feel there is a danger to yourself or a loved one.

Be cautious of unsolicited phone calls, mailings, and door-to-door services offers.

Never give or send any personally identifiable information, money, jewelry, gift cards, checks, or wire information to unverified people or businesses.

Make sure all computer anti-virus and security software and malware protections are up to date. Use reputable anti-virus software and firewalls.

Disconnect from the internet and shut down your device if you see a pop-up message or locked screen. Pop-ups are regularly used by perpetrators to spread malicious software. Enable pop-up blockers to avoid accidentally clicking on a pop-up.

Be careful what you download. Never open an email attachment from someone you don't know, and be wary of email attachments forwarded to you.

Take precautions to protect your identity if a criminal gains access to your device or account. Immediately contact your financial institutions to place protections on your accounts, and monitor your accounts and personal information for suspicious activity.
It's a tough world out there…be safe!