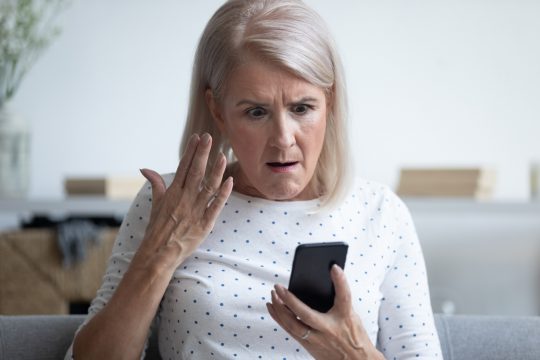 This week, the AMAC Foundation is using its weekly blog post to address a serious concern affecting its constituency…Elder Fraud and its many manifestations. We'll be posting articles focused on specific topics related to this scourge that preys on the most vulnerable among us…the elderly. The first post in this series is timely in that it focuses on the fraud situations aggravated by the now-unfolding American Recovery Plan stimulus payments.
As just about everybody knows, the recent passing of the American Rescue Plan Act of 2021 (H.R. 1319) included, among many other provisions, "Recovery Rebate" payments to individuals. These payments, commonly referred to as "stimulus payments," began arriving in checking accounts last week, providing much-needed assistance to families struggling in the wake of COVID-19 and its ongoing devastation of the U.S economy. That's unquestionably the good news that many individuals and families have been anticipating, but sadly there's a downside to the arrival of this relief.
Thoughts from the FTC
Given the pandemic's relentless impact on American families and the desperation it has created for so many, it's beyond unfortunate that there are scammers and fraudsters lying in wait to prey on vulnerable citizens. And now, with the stimulus payments occupying a prominent space in news reports these days, the threat is multiplied. In the words of Becca Kelley Slaughter, Acting Chair of the Federal Trade Commission, "Scammers follow the headlines, too."
In a video posted on the FTC.gov website, Ms. Slaughter outlines a few key things you should know. They are:
The government will not ask you to pay anything up front to get this money.
The government will not call, text, email, or message you on social media to ask for your Social Security, bank account, or credit card number. Anyone who does is a scammer.
Anyone who tells you to pay by a wire transfer, gift card, or cryptocurrency is a scammer, regardless of their story.
The FTC requests that anyone spotting one of these scams, or any suspected scam, contact the Federal Trade Commission at ReportFraud.ftc.gov. Their website also provides additional tips to avoid the scammers and fraudsters…click here ftc.gov/coronavirus."
The FBI Also Weighs In
The Federal Bureau of Investigation (FBI) is another valuable source of information that can heighten your awarness of the risks that constantly bombard us all. This excerpt from FBI.gov helps put these risks in perspective for Seniors:
"Seniors are often targeted because they tend to be trusting and polite. They also usually have financial savings, own a home, and have good credit—all of which make them attractive to scammers.
"Additionally, seniors may be less inclined to report fraud because they don't know how, or they may be too ashamed at having been scammed. They might also be concerned that their relatives will lose confidence in their abilities to manage their own financial affairs. And when an elderly victim does report a crime, they may be unable to supply detailed information to investigators."
It's a Tough World Out There!
In many ways, just navigating day-to-day life can be like the "Wild, Wild West" where, as Seniors, we're often on our own to guard against the frequent attacks on ou wellbeing. Without question, one of the best ways to self-protect is to stay vigilant, stay observant, and stay tuned in to the many sources of tips and techniques for staying out of harm's way.