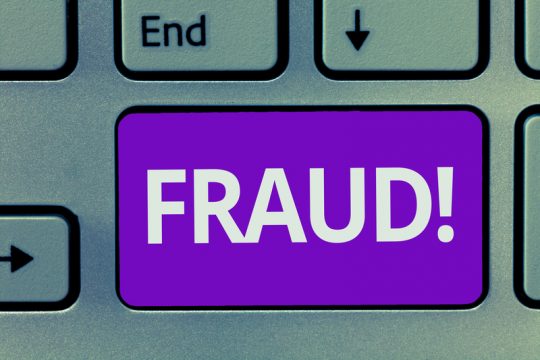 Two weeks ago, our "News & Interesting Information" page focused on a week-long series of daily general information updates and reference sources associated with the general topic of Elder Fraud and its impact on older Americans (and, in fact, all Americans). We plan to continue addressing this serious topic in future posts on this page, with today's post by financial professional Rick Pendykoski offering thoughts on protecting one's retirement planning from fraud situations.
Protecting Yourself from Investment Fraud
The outbreak of pandemic has not only caused a devastating impact on the world economy, but it has unleashed financial scams by providing a fertile ground for fraud. With retirees being the most vulnerable targets, retirement planning during the coronavirus pandemic has become a necessity, and so is to be on high alert for financial fraud.
This article focuses on how you can avoid investment frauds and what red flags you should watch out for:
Tips to Avoid Investment Frauds
Research before you invest.
Don't base your investment decision solely on unsolicited emails, message board postings, and company news releases. Look for the company's financial statements and understand their business and their offerings before investing.
It's important that you spend time checking the credibility of the person trying to convince you to invest. This holds true even if you know the person. Find out whether the firm the salesperson represents is registered with the state government. Also, ensure that the salesperson has the license to sell securities in your state. Additionally, spend time to check whether the firm or the salesperson has had any run-ins with the law.
Be suspicious of the 'Act Now' sales pitch.
If you are pressured into making a quick investment decision, you need to be cautious. Most con artists use this trick to get money from you faster. If it is a legitimate investment opportunity, you will be given time to make an informed decision.
Watch out for online scams.
Many investment scams are being advertised online on many social media platforms. Be skeptical when you see such investment opportunities and do your due diligence before investing.
Beware of promises of quick profits and high returns.
Scamsters know what appeals to people the most when it comes to investments. If your salesperson promises high returns that sound too good to be true, then it probably is.
Ask for a prospectus or investment circular.
If you are not given any written material about the company or the investment, and when you ask, you are told that it isn't necessary, just walk away.
Be cautious of unsolicited offers.
As a rule, always treat an unsolicited phone call or an email as a potential scam. If you receive an unsolicited pitch but can't find the current financial information from independent sources, it could be a scam.
Talk to a third party or an unbiased person.
If you are interested in the investment but not sure whether you should go ahead with it, talk to a third party for an unbiased opinion. The third party could be your accountant, stockbroker, attorney, or any reputable consultant.
Red Flags for Investment Frauds
Con artists do their homework. They learn persuasion techniques and tailor them to the victim's psychological profile. Here are red flags to look for:
If a sales pitch focuses on "everyone is buying it, and you should too," then it could be a red flag.
"Guaranteed high returns"- don't believe in it. Every investment has a degree of risk associated with it. If the investment is low-risk, then the returns are also low. High returns are associated with high risks; it can also include loss on investments.
If the offer sounds too good to be true, it probably is. Watch out for investments that claim "incredible gains" or have "huge upside and almost no risk!" These are hallmarks of outright fraud.
When the con artist appears to be trustworthy or likable, you are likely to be blinded by the "halo" effect. Always check the credibility and qualification of the person before investing.
"Once-in-a-lifetime offer and it will be gone tomorrow," investment opportunities usually are designed to cloud your investment judgment. Resist the pressure to 'act now' and take the time to investigate before investing.
By offering a free lunch or a free seminar, fraudsters often try to lure you into reciprocating by investing in their product. Don't fall for it. Take your time to research and then invest.
The pandemic has presented new, unprecedented challenges for the retirement industry, making the retirees vulnerable to investment frauds. It cannot be emphasized more the importance of retirement planning in warding off investment frauds and scams. Hopefully, the above tips can help protect you from COVID-19 related scams.

Author Bio:
Rick Pendykoski is the owner of Self Directed Retirement Plans LLC, a retirement planning firm based in Goodyear, AZ. He regularly writes for blogs at MoneyForLunch, Biggerpocket, SocialMediaToday, NuWireInvestor & his own blog for Self Directed Retirement Plans.