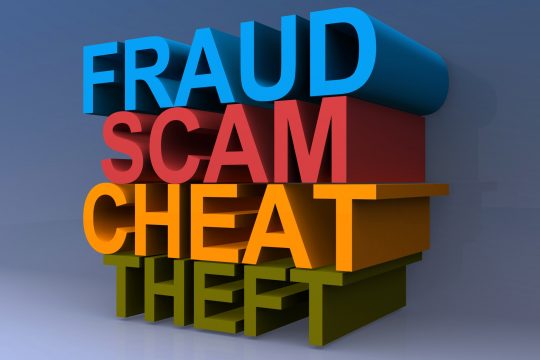 (Reprinted from Florida Consumer Newsletter – December 2019 edition)
Wouldn't it be nice if criminals took a break for the holidays, leaving the rest of us to enjoy our celebrations without the worry of scams and fraud? Unfortunately, they don't slow down at this time of year, and if anything, scammers actually ramp up their activity to take advantage of unsuspecting consumers.
Luckily, you can preserve your holiday cheer and reduce your chances of becoming a victim by learning a few signs of some common scams. Remember, these scams can take on holiday-themed forms at this time of year but can still be a threat all year long.
1. Secret Sister/Gift Exchange Scam – You may have already seen social media posts for a secret sister gift exchange, but know this: no matter who posted it or how much fun it claims to be, it's a scam. Even worse, depending on how it manifests and where you live, it may even be illegal to participate.This one works in a similar vein to a pyramid scheme. You buy six to ten gifts and mail them to other people on the list, and in turn, future participants send you gifts. Your initial handful of gifts is supposed to multiply as the list gets bigger, but too many victims of this scam report that all they got was a hit to their bank accounts when they sent off those first gifts.
2. Charity Scams – Thieves take full advantage of our goodwill and generosity, often with sad situations that make us feel grateful to have so much. With the widespread availability of crowdfunding and online posting through social media, it can be very difficult to know who to help and how. Be safe this season by designating your donations before the holidays and choosing reputable organizations whose values align with your own.
3. Shipping, Fake Retail Scams – As our holiday shopping gets fully underway, it can be hard to discern genuine retailers and their messages from the phonies. Copycat websites, fake internet storefronts and bogus emailed receipts that trick us into divulging sensitive information are just a few of the tools scammers can use to steal your identity, your money or both.
4. E-Cards – There are several reputable websites that offer adorable " e-cards," complete with photo personalization, animated video, and even musical sound effects. Unfortunately, the cards arrive as an email in your inbox telling you to click the link to view it; it takes no tech skill whatsoever to launch a spam email campaign that tricks recipients into downloading a virus instead of a delightful card. Make sure you verify it with the sender before you click any links.
5. Seasonal Employment – There's never a time when most of us couldn't use a little extra money, and scammers take advantage of that fact even more at the holidays. Bogus job offers that steal your identifying information, criminal scams that get you to "reship" stolen property and too-good-to-be-true jobs that require you to send in money or access to your bank account are just some of the ways scammers posing as employers can harm you.
This holiday season, arm yourself with information so you won't have to waste time worrying about scams and fraud. Also, do your friends and family a favor: give the gift of awareness by keeping others informed about these scams and more.