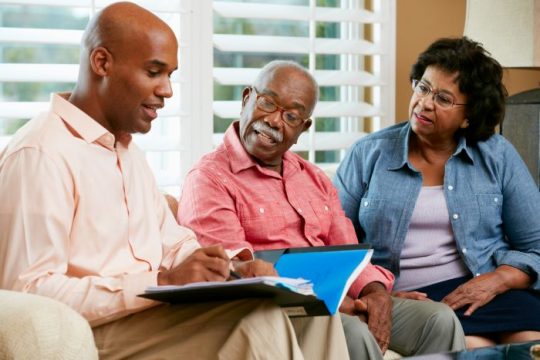 We're all getting older. For many adult children, having their parents available to them for advice and just plain comforting conversation is a blessing, but it needs to be tempered with the realities of the aging process. These realities bring with them a host of challenges and changes in outlook for the parents who have nurtured their children throughout their lives. So, as parents move into the peacefulness of their senior years, it becomes increasingly important for adult children to stay current on how their parents are adapting and what their evolving needs, preferences, and concerns are.
Enter "the conversation." Just like the conversations parents have with their children as they emerge from adolescence to face the realities of young adulthood, it becomes essential for adult children to do a role reversal and engage their aging parents in meaningful conversation about what's ahead of them. That doesn't mean adult children need to take command of their parents lives, but it does mean that they need to understand how their parents' thinking is evolving and how they can best provide the support they need for this stage of their lives. So, the conversation–ongoing conversation, actually–becomes critical and it does require careful planning.
Here's some help for those needing guidance in preparing to discuss this important aspect of life with their aging parents. An article posted on the AMAC.us website several months ago offers suggestions on structuring a two-way communication flow between seniors and their adult children. In addition to the typical matters like legal document preparation and planning for living arrangements, the article calls attention in a general sense to the need to stay connected to aging parents. One way many folks are accomplishing this is through the use of wearable technology like medical alert systems, as well as home monitoring systems and the general area of "smart home" technology that can help maintain the connection between adult children and their remote parents.
For example, Safety.com is an organization that monitors the home safety marketplace and provides information on product announcements, product recalls, and breaking news about products designed to promote safety in the home–one of the main concerns adult children have in caring for their parents. For example, here's an article from Safety.com  describing their views on the "Best Medical Alert Systems of 2019," one of several research sources on products that might be of interest. Check it out…the information might help you develop your plans for "The Conversation!"
Notice: The links provided above connect readers to the full content of the posted articles. The URLs (internet addresses) for these links are valid on the posted date; AmacFoundation.org cannot guarantee the duration of the links' validity. Also, the opinions expressed in these postings are the viewpoints of the original source and are not explicitly endorsed by the AMAC Foundation, Inc.