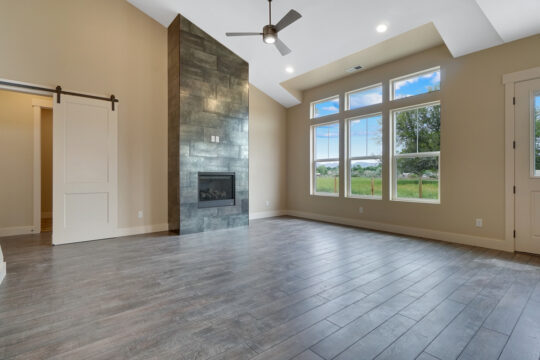 A few months ago, we published an article here highlighting how caregivers are able to use a linked smart home to assist them in caring for their vulnerable loved ones. We've also conducted seminars on the smart home concept and how seniors can benefit from the many helpful innovations this technology brings to the home. It's an evolving concept, with new ideas and products constantly hitting the marketplace at a fairly steady pace.
As a result of our attention to this topic, we recently were offered an opportunity to report on the state of ceiling fans and what's new in this relatively mundane area of home features. And, in keeping with the smart home theme, we see that they, too, have advanced into the arena of automated features designed to enhance living. Our friends at Lamps Plus have made available to us an extensive article covering the basic features of today's ceiling fans, including the introduction of wi-fi capabilities that allow for energy-saving types of programming you can use to get the most out of this form of smart home equipment.
Here's an excerpt from the Lamps Plus article: "The new smart ceiling fan comes with the smart capabilities built into the design. Most smart ceiling fans on the market connect to your home Wi-Fi system, allowing them to be controlled either by a mobile app or by voice commands from virtual assistants like Siri, Google Home, Apple HomeKit, or Alexa." The article goes on to describe how the technology works, and summarizes many of the key benefits provided through adaptation of state-of-the-art features into their design. One of the main areas of focus in the article is the matter of energy savings and the role that smart home ceiling fans can play in reducing energy consumption.
Overall, an enlightening discussion on what most of us would consider to be a commonplace part of our living environment. Check it out here…
The links provided above connect readers to the full content of the referenced information. The URLs (internet addresses) for these links are valid on the posted date; AmacFoundation.org cannot guarantee the duration of the links' validity. Also, the opinions expressed in these postings are the viewpoints of the original source and are not explicitly endorsed by AMAC, Inc. or the AMAC Foundation, Inc. Providing linkage to external websites does not constitute endorsement of products or services advertised thereon.