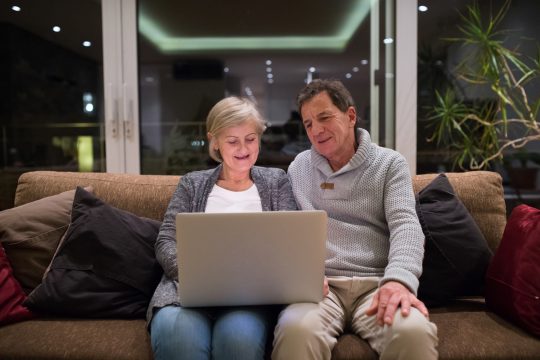 (Source: Benefits.gov)
Benefits.gov released an improved Benefit Finder tool in September 2019. The Benefit Finder is an online questionnaire that recommends government benefits you may be eligible to receive after you answer a series of questions. We listened to your feedback and made improvements to create a more helpful and enjoyable experience as you search for government benefits. Keep reading to learn more about the Benefit Finder and how it can help you find information on over 1,000 federal benefit and assistance programs.
What can I find using the Benefit Finder?
Your answers to this confidential questionnaire will generate a list of benefits tailored to your needs. While Benefits.gov does not handle the application process for any government benefits on our site, we can help you find the next steps for applying. You may be eligible for more benefits depending on your personal situation, which is why the Benefit Finder questionnaire asks personal questions, like your birthdate or race. The more information you provide while filling out the Benefit Finder, the more closely we can match you to benefits you may be eligible to receive.
How do I use the Benefit Finder?
To start the Benefit Finder, first, answer the set of required questions.
Select the types of benefits you are interested in, such as Food and Nutrition or Healthcare and Medical Assistance.
The questions in the category tabs that follow are optional and can be skipped. However, the more questions you answer, the better we can prescreen your eligibility for the benefits in your results.
Once you've completed answering questions, the Benefit Finder will return a list of benefits that you may be eligible for and direct you to next steps for how to apply and who to contact for questions.
To avoid losing your Benefit Finder results, you will have the option to email your results list or print your results.
What if I am helping someone else?
If you are answering the questionnaire on behalf of someone else, including a child, the term "you" applies to the person that you are helping. Answer the questions as they apply to the person looking to receive government assistance.
Why does Benefits.gov say I may be eligible to receive benefits?
The Benefit Finder is a great place to begin your search for government benefits on Benefits.gov. The Benefit Finder compares the answers you submit in the questionnaire with the eligibility criteria of more than 1,000 federally funded benefits. However, we cannot guarantee your eligibility as there are other factors that affect benefit applications. If you need more help with the benefit application process, Benefits.gov can direct you to the Federal and state agencies responsible for managing the benefit.
How much time will it take to complete the Benefit Finder?
The Benefit Finder should take 20-30 minutes; however, the time will vary depending on the user. Having access to your personal information, such as family, education, and financial history will help save you time.
Finding government assistance can be overwhelming if you don't know where to begin, but Benefits.gov is here to help. We encourage you to spend time on our site and use our improved Benefit Finder to discover government benefits you may be eligible to receive.
Notice:  Also, the opinions expressed in these postings are the viewpoints of the original source and are not explicitly endorsed by AMAC, Inc.; the AMAC Foundation, Inc.; or amacfoundation.org.