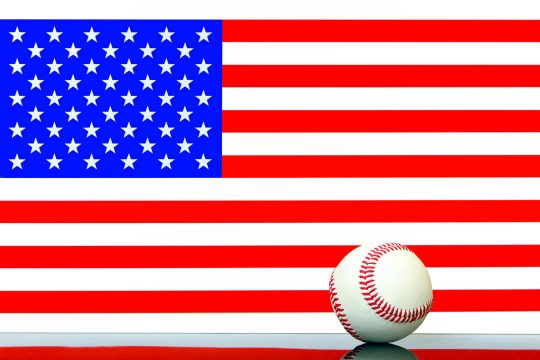 The sport of baseball–and particularly Major League Baseball (MLB as we've come to know it)–has legions of fans throughout America and the world. And most of these fans look to the start of each season as the official start of Spring. This year, with the COVID-19 pandemic creating havoc in so many areas of our lives, MLB diehards are suffering in yet another area of deprivation…NO BASEBALL!
So, in an effort to give MLB fans at least some degree of baseball-related entertainment, this week's blog post resurrects one of the sport's most fascinating displays of patriotism…the saving of our country's flag! It's a memory from over forty years ago, but it still resonates with many Americans. Enjoy the flashback…
Baseball's Greatest Play
It happened April 25, 1976, and it had nothing to do directly with the sport of baseball. In a moment of patriotic reflex, Chicago Cubs center fielder Rick Monday became an American hero with an act that has been labeled one of the greatest moments in baseball's history.
The Cubs were playing the Los Angeles Dodgers in Dodger Stadium, in the first game of a three-game series on a beautiful spring Sunday afternoon. Getting set for fourth inning action, Monday sensed something was amiss as two people emerged from the left field corner and ran out onto the field, one of them carrying a folded item. His interest turned to agitation when he saw that the item was the American flag, and that the two were protesters intent on setting it on fire!
Quickly shifting from baseball player to patriot, Monday sprang into action, grabbing the lighter fluid-drenched flag on the run and taking it away from the two before it could be ignited. In an interview 30 years later with Ben Platt of MLB.com, Monday commented, "To this day, I couldn't tell you what was running through my mind, I was angry and it was wrong for a lot of reasons."
Monday recalls a momentary buzz in the stands as fans began to realize what had just taken place. This subdued chatter was quickly followed by a full-crowd rendition of "God Bless America" after the flag had been secured in the Dodger's dugout and the protesters removed from the field.
Described as one of "100 Classic Moments in the History of the Game" in Joseph Wallace's 2001 anthology on the sport's great incidents, Monday's spontaneous heroism is a model for on-the-spot patriotism. Monday tends to downplay the acclaim directed at him, commenting in an mlb.com interview that "I'm embarrassed by the attention focused on me, because I don't know anyone who would not have done the same thing had they been as close to it as I was."
But this former U.S. Marine reservist recognizes the event's symbolism, and holds it dear. He still has the very flag from that 1976 spring day, refusing to give it up despite reportedly being offered $1 million for it. As far as his legacy as a professional baseball player goes, Monday does not take exception to his act of patriotism sometimes overshadowing his 19-season career in the sport, summing it up this way, "If that's all you're known for, that's not a bad thing at all."
P.S. A video account of this unforgettable moment in history can be viewed at http://www.youtube.com/watch?v=IrV8QPQAhxo