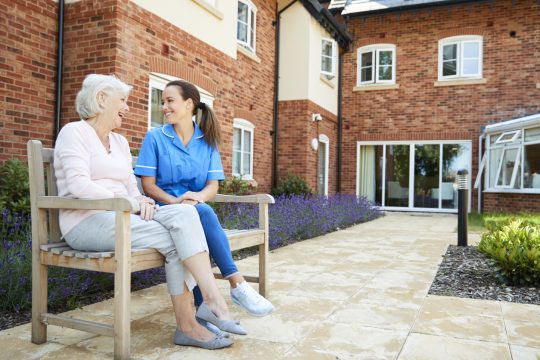 Are you looking for options to support your elderly family member? Are you going through the process of getting the help of a caregiver? You might feel overwhelmed with the responsibility of caring for the elderly but know that it is your duty as a family member and you are not alone on this. May Americans are doing this as well. Here we will help you find the answers you are looking for.
A nursing home is a place for those elderly who cannot live independently and need constant care due to old age or any physical and mental condition. Residents eligible for a nursing home require constant monitoring or supervision. Nursing homes provide frequent care services from skilled nurses, so you don't have to worry about whether your family member is getting the correct medical care or not. Services provided by a nursing home include:
Long-term care
Rest home
Care home
Intermediate care home
Extended care
Personal Care is assistance provided by caregivers who do not require a license or registration. Examples of personal care services include:
Helping residents get dressed, bathe, eat or go to the bathroom
Applying creams for minor problems
Administering oral medications, eye drops or ointments
Repositioning elders in their beds
Providing company to residents who feel lonely and depressed
Changing dressings for wounds
Helping residents get around in wheelchairs or walk
Assisting with maintenance of colostomy bags or bladder catheters
Most nursing homes and assisted living facilities strive to create a warm, homelike environment where residents can socialize and live comfortably. However, beyond that goal, these two types of senior living options have differences in their services.
Assisted living facilities:
Have with small kitchens
Provide private or shared apartment-style living units
Provide residents freedom in decorating their spaces
Provide communal dining spaces or recreational centres
Provide therapy to residents with mental conditions like dementia, Alzheimer's etc.
Some facilities provide access to medical supplies at discount via arrangements with third-parties. Heres an example of a discount arrangement.
Serve on an average, about 28 residents each day, according to CDC
Nursing homes:
Tend to offer less recreational space
Offer private hospital-style living units
Provide a little less freedom to elders in decorating their space
Provide communal living areas and dining spaces
Serve about 88 residents each day, on average.
In both kinds of facilities, the staff is trained to value residents' privacy. And, even some assisted living facilities allow their residents to have pets.
Cost Differences
Many seniors rely on Medicaid and Medicare, but these government programs don't quite provide the coverage on the whole cost of the program.
With assisted living facilities:
Most residents (or their families) payout of their own pockets.
Some residents are covered through private medical care insurance.
Many veterans can pay using veteran benefits.
Some states provide Medicaid coverage under certain eligibility criteria.
With nursing home care:
When eligible, most residents pay for it with Medicaid.
Some people pay for it out of pocket or with private long-term care insurance.
Article specially written for amacfoundation.org by Jennifer Ford, Digital Marketer and Blogger
Notice: The links provided above connect readers to the full content of the posted article. The URLs (internet addresses) for these links are valid on the posted date; AmacFoundation.org cannot guarantee the duration of the links' validity. Also, the opinions expressed in these postings are the viewpoints of the original source and are not explicitly endorsed by AMAC, Inc. or the AMAC Foundation, Inc. Providing linkage to external websites does not constitute endorsement of products or services advertised thereon.