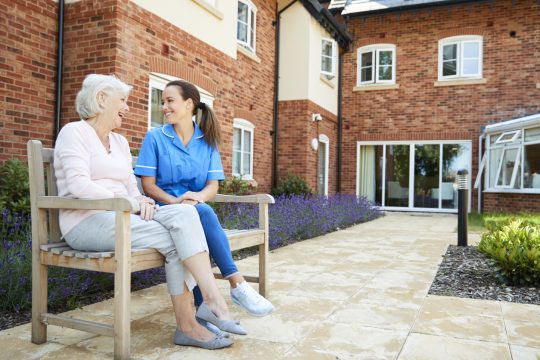 Making sense of today's senior housing
Retirement is a tricky life event. There are many transitions to be made. While there is room for new choices and opportunities, there is also a lot of fear. For one thing, many families have to contemplate the decision of moving their loved ones to a senior living community that comes with a ton of benefits.
There are better amenities for seniors, better healthcare, socialization, and myriad convenience services. It makes sense why a growing number of seniors are moving to retirement communities. But, since this can be an overwhelming decision, you need to find the right place to move them to.
In this post, we will see if a retirement community or assisted living is a better option for your seniors during their old age.
Understand Community Types
In an assisted living community, residents dwell in tiny apartments that are often mobile. The residents need help with things like meal preparation, personal care, and medication. Often in assisted living, there's limited medical care available which comes from the facility's affiliation or joint efforts with outside medical establishments.
Retirement senior living communities are homes that are more like a space for the elderly to live and socialize with others. The atmosphere is more conducive for their living arrangements. However, as the senior's health deteriorates, you may have to send them to a more medically advanced facility like a nursing home. The healthcare services are practically negligible.
Services provided by Assisted Living and Retirement Communities?
Some senior living communities include luxury services and offer the following:
Standalone homes and high-end residences
Gym
Pool
Steam and sauna rooms
Activities, classes, lectures
Parks
Community shared gardens
Assisted living facilities to expect:
Help with everyday tasks such as grooming, dressing, medication
Management of medication
Transportation
Laundry services
Health programs and activities like yoga
Availability of staff all the time
Dining room, cafeteria, and often food delivery service
Choosing the right level of care
The single most important factor when it comes to picking the right kind of senior living arrangement for your elderly is to assess the level of care they need. For one thing, you need to look into their health condition and the kind of care they need. Is the community you're contemplating capable of providing that level of care?
Perhaps they can handle daily tasks but need help with more sophisticated and complex tasks such as medication management or laundry. Maybe they are at an early stage of Alzheimer's disease and require one of the dedicated Alzheimer's care communities. It's good to look into options that offer varying levels of care so that with time, it's easy for them to make a smooth transition without having to switch places.
Deciding on the location
Location is another big factor to think about. Do you wish your seniors to live nearby you so it's easier for you to visit them whenever you want? Perhaps they're okay moving to a distant part of the country.
What about the nearby parks and landmarks such as doctor's offices, hospitals, entertainment venues, parks, grocery stores, restaurants, airports, etc? Look into the availability of these conveniences. Look into the weather of the place. Is it too hot or too cold? Would your senior be comfortable living there?
Learn What Is Included
Look into things. See what all is included in the package. Look for any hidden charges/fees. These are often covered in the form of extra laundry or housekeeping charges. Make sure the package fits your budget and overall needs. It should particularly be a good fit for your seniors' present condition.
Some communities will offer proactive technologies such as emergency alerts, tracking programs, supervised tele-medication connecting the residents to local doctors, as well as additional services such as memory care. Don't be afraid to negotiate, ask questions, and dig deeper.
Conclusion
When you talk about the differences between a typical retirement community and an assisted living, they are plentiful. If your senior is relatively still healthy it's better to move them to a retirement home.
However, if they are big on medical care and attention, assisted living might be a wiser option out of the two.
Article specially written for amacfoundation.org by Holly Klammer, MemoryCareFacilities.net
Notice: The links provided above connect readers to the full content of the posted article. The URLs (internet addresses) for these links are valid on the posted date; AmacFoundation.org cannot guarantee the duration of the links' validity. Also, the opinions expressed in these postings are the viewpoints of the original source and are not explicitly endorsed by AMAC, Inc. or the AMAC Foundation, Inc.