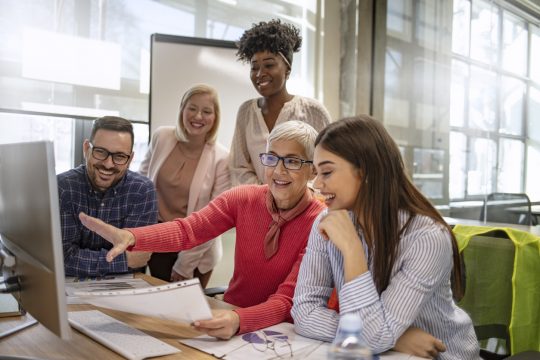 Social Security is complex…those of you who are beneficiaries certainly know that, and those of you who are beginning to look into it are quickly becoming aware of the myriad rules, regulations, and critical decision points you'll face when you get there. Our Foundation provides free Social Security Advisory Services to the public on a question-and-answer basis, and we handle an average of 500 requests for this service every month. It's been a wildly popular service.
To expand on what we're already doing, our team has now developed a new service targeted at small to medium companies that do not have on-staff resources familiar with the intricacies of Social Security. Our designed approach is to offer the service on-site at a company's location, featuring a "packaged" approach with the following components:
A complete and focused seminar on Social Security, from basics to details (about a four-to-six-hour session)
Focused discussions on items pre-selected for the audience (e.g., spousal benefits, survivor issues, calculation of benefits, filing strategies, rules for government retirees, etc.)
Individual appointment-based sessions to discuss questions, personal situations, etc. like breakeven strategies or specific questions that people are not inclined to dicuss in open forum
Foundation publications ("Ask Rusty" collections, "Who's Who in Social Security," article reprints)
Although our phone/email service is free to the public, we offer this on-site service at a modest fee, primarily to recover our costs.
Consider this endorsement from SECO Energy, one of America's largest electric cooperatives:
SECO Energy believes wholeheartedly in educating our employees with important information about their needs before and after retirement as they age into Social Security eligibility. Our cooperative takes advantage of the Association of Mature American Citizens (AMAC) Foundation's Social Security Advisory Services with on-site, interactive employee education sessions. I consider AMAC's educational services a vital employee benefit that corresponds with other retirement education initiatives SECO Energy offers related to our 401k program and our retirement security pension plan. Employees need to understand the full retirement picture – including Social Security. AMAC's consultants are accredited National Social Security Advisors who bridge that gap expertly. I recommend AMAC's services to other
companies seeking to provide this type of employee education to its aging workforce.
Jim Duncan, CEO
SECO Energy
Contact us at [email protected]
or call us at 800-750-2622 for more information