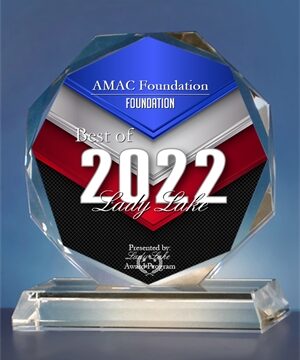 AMAC Foundation receives 2022 Best of Lady Lake Award
Thank you, Lady Lake Award Program for recognizing the AMAC Foundation's effort to educate our senior communities. In addition to the AMAC Foundation team dedicating their time to  senior resources, they also provide Veteran outreach and support to other organizations. Markedly, the team's unwavering commitment to delivering topnotch, free social security advice and answer inquiries is always their top achievement.
We appreciate this award and support. Please see the press release below.
AMAC Foundation Receives 2022 Best of Lady Lake Award
Lady Lake Award Program Honors the Achievement
LADY LAKE October 17, 2022 — AMAC Foundation has been selected for the 2022 Best of Lady Lake Award in the Foundation category by the Lady Lake Award Program.
Each year, the Lady Lake Award Program identifies companies that we believe have achieved exceptional marketing success in their local community and business category. These are local companies that enhance the positive image of small business through service to their customers and our community. These exceptional companies help make the Lady Lake area a great place to live, work and play.
Various sources of information were gathered and analyzed to choose the winners in each category. The 2022 Lady Lake Award Program focuses on quality, not quantity. Winners are determined based on the information gathered both internally by the Lady Lake Award Program and data provided by third parties.
About Lady Lake Award Program
The Lady Lake Award Program is an annual awards program honoring the achievements and accomplishments of local businesses throughout the Lady Lake area. Recognition is given to those companies that have shown the ability to use their best practices and implemented programs to generate competitive advantages and long-term value.
The Lady Lake Award Program was established to recognize the best of local businesses in our community. Our organization works exclusively with local business owners, trade groups, professional associations and other business advertising and marketing groups. Our mission is to recognize the small business community's contributions to the U.S. economy.
URL: http://www.honor-business.com
Notice: The links provided above connect readers to the full content of the referenced information. The URLs (internet addresses) for these links are valid on the posted date; AmacFoundation.org cannot guarantee the duration of the links' validity. Also, the opinions expressed in these postings are the viewpoints of the original source and are not explicitly endorsed by AMAC, Inc. or the AMAC Foundation, Inc. Providing linkage to external websites does not constitute endorsement of products or services advertised thereon.