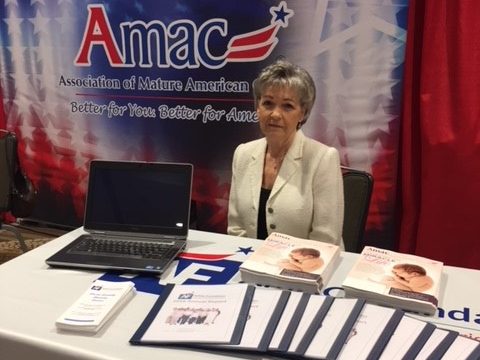 The 45th annual March for Life will be held this Friday, January 19, in Washington DC. The march, which protests the practice and legality of abortion in the United States, is expected to draw thousands of pro-life advocates from across the nation. Among the crowd will be president and founder of AMAC, Dan Weber, who is proudly attending this year's march to speak up for those who do not yet have a voice. Also on hand for the event is Foundation Executive Assistant Sandra Sinagra, pictured in photo staffing our information table.
The theme for this year's march is "Love Saves Lives". The March for Life Education and Defense Fund discussed the theme at a recent Capitol Hill briefing, explaining that while choosing life may not always be easy, it is the "loving, empowering, and self-sacrificial option".
The March for Life has taken place each year since 1974, around the anniversary of Supreme Court decision Roe v. Wade—the landmark case that decriminalized abortion in the United States. The nationwide movement and main rally on the National Mall are organized by the March for Life Education and Defense Fund, which aims to create a world in which each and every human life is valued and protected.
Renewed in their determination by outspoken pro-life president Donald Trump, anti-abortion protesters will join together as they testify to the beauty of life and the dignity of each person.
AMAC and the AMAC Foundation are proud to support the March for Life, and will continue to persistently defend the rights of the unborn. As we continue working with Representatives and policy leaders to help push forward life-affirming legislation, we hope you will join us in our fight to preserve the miracle of life.
To get involved with the March for Life or find more information on how you can stand up against abortion, visit the March for Life website here.