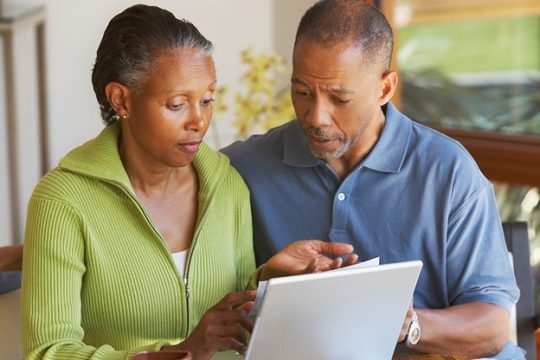 Courtesy of Travelers Insurance
In as many ways as technology like smartphones and the internet have made life easier for consumers, it has also opened virtual doors for online scammers to do harm. Fraudsters often target seniors because they may be less tech-savvy, and typically have more liquid assets such as savings and retirement accounts which can be easier to access, if not safeguarded.
In 2020, people over the age of 60 lost a combined total of $1 billion to internet fraud, making up almost 30 percent of online fraud across all age groups.[1] Fraud directed at seniors is common, so it's important to be vigilant to stay safe online. Consider the following online safety tips to help avoid malicious content and fraud attempts:
5 Tips to Protect Seniors Online
It's part of a healthy lifestyle to stay connected with loved ones and informed about the world around you, so, don't throw out your smartphone just yet. The important thing to remember is that your digital devices make you vulnerable to online fraud and other crime. Learn how to use your smartphone and other digital devices so you know how to spot suspicious content.
Follow these online safety tips for seniors to help protect against scammers with malicious intentions:
1. Use Security Software
Install reliable security software on devices you use to connect to the internet, like your smartphone, tablet or home computer. If you're uncomfortable doing this yourself, ask a trusted family member or friend to help. You'll need both antivirus and firewall protection. Antivirus protection helps identify, block and delete malware and computer viruses before they affect your device,[2] while firewall software or hardware adds a layer of protection between your device and hackers.[3]
Having both layers of protection helps reduce the threat of sensitive information being collected from your device, reducing its vulnerability to harmful attacks. There are several security products that can help protect your devices. Do some research to find one that suits your needs.
2. Share Your Location with Care
A good rule of thumb is to never share your location[4]. Doing so potentially puts your personal information at risk, due to the ever-improving accuracy of GPS services that allow strangers to pinpoint your address, right down to your house number. Not only does this leave you vulnerable to strangers approaching you in person, it's a crucial piece of identifying information that could aid efforts to steal your identity. Regularly posting your location can also make it easy for others to monitor your habits and routines, so those with ill intent will know when you're unlikely to be home.
3. Never Assume a Stranger Online is Trustworthy
Another important online safety tip is to avoid trusting strangers. If you don't have an existing, in-person relationship with someone who reaches out to you, do not share your personal information with them. This includes your email, address, full name or other identifying details.[5] Be especially wary of links, videos, images or "tips" on deals or products, as they may be scam attempts.
4. Avoid Website Popups and Strange Links
Another good practice for staying safe online is to avoid clicking on pop-up windows or links in emails from unfamiliar sources. Scammers typically use congratulatory or intimidating messaging in pop-ups, ads or emails to encourage an emotional response and tempt you to click on the content. They may even include a countdown timer to add pressure. Clicking malicious links or ads from sources you do not know could expose you up to computer viruses, spyware and financial or identity theft.[6] Examples of this tactic are messages like "You're the 100th visitor, click here to claim your prize!" or "Security threat detected, click here to resolve." Don't fall for these messages.
5. Never Share Your Sensitive Personal Information
Limiting the personal information you share is another important online safety tip.[7] Never enter sensitive personal information into unfamiliar websites or provide your details in an email or through links sent to you by email or text message. Never share the following information on non-secure or unfamiliar sites or in email or text messages:
● Your address, name or Social Security number
● Financial information such as your bank account number, debit card number or credit card number
● Account or device security information, including passwords, PINs, security question answers or even usernames
If you're visiting a trusted website – like your bank's website – and it asks for this information, make sure the URL at the top of the page starts with "https://," which means it's secure.[8] Even then, use caution and take time for a quick search about the site's legitimacy if it's new to you.
When in Doubt, Think Before You Act
Thinking before you act just may be the most important component of staying safe online. If you're ever in doubt, close your browser and check to make sure your security software is up to date. If you receive what appears to be an urgent message, like from your bank, call the organization directly or visit its secure site and send a direct message.
If you believe you've been the target of a cybercrime, whether you've responded to it or not, report it to the appropriate authorities, such as:
● Your local police department
● The FBI's Internet Crime Complaint Center
● The National Adult Protective Services Association
● The Federal Trade Commission
● The National Elder Fraud Hotline
● The International Consumer Protection and Enforcement Network (ICPEN) for international scams
Reporting cybercrime and fraud can help protect you online. The information you provide can be helpful to the authorities that investigate and prosecute cybercriminals who target older adults. Your report may also help inform educational strategies and safety resources that could potentially help others stay cyber safe.
This content is brought to you by Travelers. AMAC members receive special discounts and competitive rates on auto and home insurance from Travelers.
---
[1] https://www.ic3.gov/Media/PDF/AnnualReport/2020_IC3ElderFraudReport.pdf
[2] https://www.cisa.gov/uscert/ncas/tips/ST04-005
[3] https://csrc.nist.gov/glossary/term/firewall
[4] https://www.justice.gov/usao-ndga/protecting-yourself-while-using-internet
[5] https://www.usa.gov/identity-theft#item-214444
[6] https://www.consumer.ftc.gov/articles/how-avoid-scam
[7] https://www.ready.gov/cybersecurity